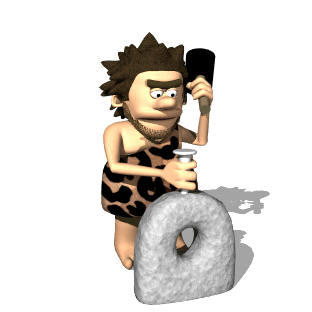 The 2012 year was very exciting for me. I became a grandmother for the first time in March to a wonderful boy. His name is James Delmar. He was named after my dad. He is now 21 months old. After my grandson was born, I decided that it was time to quit my second job. I wanted to be able to spend my off hours with my grandson. Last June, I got married to my best friend who loves to ride motorcycles. My husband has opened my eyes to several new adventures. I now carve wood in my free time which I admit there is very little.
I am still getting use to my new last name. My name is now Janice Herring. Yes, some of the students still call me Miss G. I still answer to it. I also get called Miss G to the H. I got into teaching when I was older. I am very much a people person. Some of my students love to call me Geebs. That is the nickname that my friends gave me in college. It is strange how somethings go full circle.
I have a degree in History and Business Administration.
I went back to SIU-C and earned another degree in Special Education. I am on my 17th year of teaching. My 15th year at Perryville. I thought that "pushing papers" was not for me , so I decided to go into teaching# How little did I know that teachers push just as many papers. Time has allowed me to teach a variety of classes in the special education field. Up until three years ago, I was with the math department. I am now teaching with the History Department. I work with Mr. Cole with American History and Mr. O'Keefe with World History. This year I find myself back in the math class for one hour of the day. I am teaching with Ms. Templeton in Geometry. The information is still the same. The time periods that interest me the most is the Civil War and World War II. I teach two units in American History. I teach the Roaring 20's and the Civil Rights unit. In 2003, I earned a Masters Degree in Multi-Disciplinary Studies in Education through Webster University.
I have learned many new talents this year. Mrs Shultz, the FACS teacher has taught me how to crochet a scarf. I have made several of them now. I find it very enjoying and relaxing. This type of crocheting anybody can do. If I can do it, I know that anybody can learn this. This made me realize that it is the instruction or method in how you teach something as to whether the student will be able to understand what you want. Sometimes you must show and let them try to complete it on there own. Through this method, I have realized that I must see, hear and actually touch it to be able to learn a new task.

This year my sister-in-law has taught me how to crochet. I have realized that one needs to count to do this or you may add a stitch or drop a stitch. I became a grandma again to a beautiful little girl Penelope Louise. She was born on my birthday so that made this year awesome.
I have found out that demolition is more fun than putting the pieces back together. I have also learned that having too many irons in the fire does not produce finished products, but only ones that are in progress.
I am a class sponsor. I have been a class sponsor for eleven years now. I help with the after school tutoring program twice a week, I also spend time working with a group of students who have joined the Friends of Education Club. I also help Mrs. Shultz out with FACS when she needs it. I have realized that I enjoy a variety of different areas now in the school realm. This summer I went to a conference with Mrs. Shultz and 9 students which encompassed the idea of getting people in the community to realize that driving distracted is dangerous.