Serving Up Smiles
Kate Martin
Monday, October 19, 2020

Maggie Chapman (center) is pictured with PES Cafeteria Manager Jonnie Berkbigler (left) and Food Services Director Debbie Baer.
Serving up smiles
Chapman flourishes through job coaching program
By Kate Martin
kmartin@pcsd32.com
Whatever's on the menu at Perryville Elementary School, students are sure to be served with smiles from the cafeteria staff. One of the biggest smiles greeting them is from Maggie Chapman, who works at District 32 through the Workforce Innovation and Opportunity Act (WIOA).
WIOA programs help people access employment, education, training, and support services to succeed in the labor market, and match employers with skilled workers they need to compete in the global economy.
Debbie Baer, Director of Food Services at District 32, said Maggie has been a member of the cafeteria staff since last school year, working at both the primary and elementary cafés.
"Maggie is good at every job assigned to her, from serving milk to washing dishes, and does every job with a smile," Baer said.
Maggie, who is a 2019 graduate of Perryville High School, receives supported employment, or job coaching," services through Trendline Consulting in Perryville. These services can help people with special needs transition successfully into the workforce. Trendline's job coaches and employment specialists work with clients to help them learn the skills necessary for their position, track progress, and help clients network with their peers. This service is provided as discretely as is possible in the workplace setting and is faded as the client becomes more and more independent.
"I love working with my friends in the cafeteria," Maggie said. "My favorite job is packing lunch bags. Today I'm bagging apples and marina sauce for the cheese sticks. I really like all the jobs I do."
Jonnice Berkbigler is Maggie's manager at the elementary cafeteria.
"Maggie is a breath of fresh air," she said. "She is a perfect employee — she is always friendly and pleasant, and she does what is asked of her."
Berkbigler encourages other employers to consider working with WIOA.
"I certainly recommend that all employers consider hiring people with special needs," she said. "Maggie, for instance, is always on time, is willing to try new tasks, and can work independently. In the time she's spent with us, she's grown into a well-liked colleague. We all love Maggie."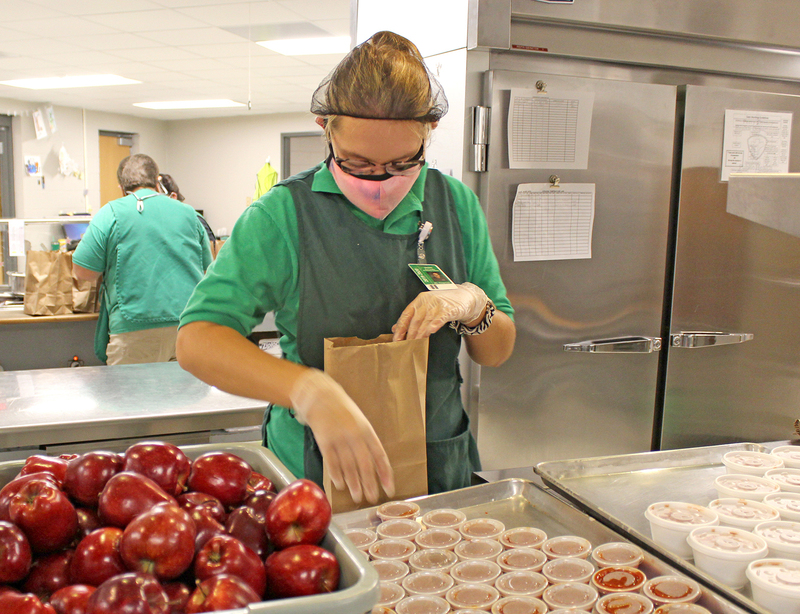 Maggie's job coach Kasey Pitts agrees.
"Maggie is taking on more responsibility each day," she said. "My time with her will end soon — she's developed the skills she needs to be successful in the field she's chosen. We're spending some time doing mock interviews to prepare her to become a regular-full time employee in the food service sector."
Maggie's mother Becky Chapman said Maggie has found a career path that suits her.
"As a Mom all you want for your child whether they're a young child or an adult is for them to find something that brings them joy and happiness," Chapman said. "Maggie has truly found her calling and that is to help serve others. Maggie looks forward to her work day and enjoys her work family very much. She takes great pride in being able to say she has a job."
She said that the WIOA program has provided Maggie with the opportunity to learn the necessary skills to enter the workforce through her job experience.
"With her job experience ending the first part of November she will no longer have this job at the school and her WIOA job experience will be considered complete," Chapman said. "Our hope is that Maggie can transition right into becoming an employee of the district, but if it doesn't work out, she'll begin to look for a job in the food service sector."
For more information about WIOA, visit https://jobs.mo.gov/community/wioa. For more information about Trendline Consulting, visit https://www.trendlineconsulting.org/.