Brent Roth, a PHS teacher and coach, who is fundraising for American Cancer Society
Kate Martin
Thursday, October 22, 2020

Brent and his wife Shelby are pictured with sons Eli (left) and Noah

PHS coach a top fundraiser in breast cancer fight
The Perryville High School football coaching staff will be making an unusual fashion statement at this Saturday's Homecoming game, thanks to the fundraising efforts of a fellow coach.
PHS teacher and coach Brent Roth is participating in the American Cancer Society's Real Men Wear Pink 2020 Campaign. He set a goal of raising $2,500 during October to fight breast cancer, and seven other Pirate coaches agreed to wear pink pants and hats during the Homecoming football game if he met that goal.
Lindsey Manshack, chair of the Missouri Area Board for the American Cancer Society, said that Roth's idea paid off.
"In the first two days alone, Brent beat this goal and is currently the fifth-highest fundraiser in the State of Missouri. Now, all PHS football coaches will be wearing pink pants and hats during Saturday's game against Herculaneum."
Roth said that his fundraiser has been a success because of the people of Perry County.
"Our community really comes through when it's time to help others," he said. "When I decided to participate in this fundraiser, I clicked a link and accidentally created a Facebook page for it. Before I even realized it, I had a donation! By the end of the day I had $300. That's all because of our community and friends. Some of my players have even donated. It's been incredible."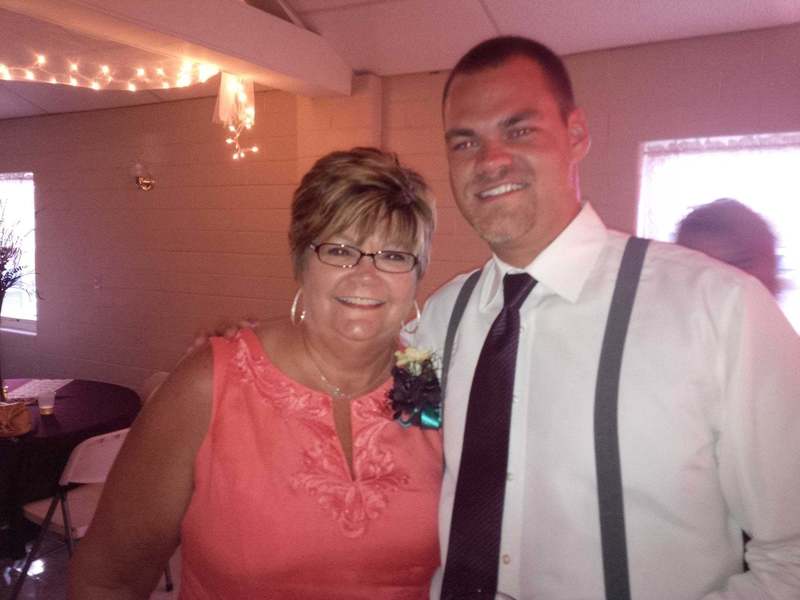 Roth "Wears Pink" in honor of two special women, his late mother Sandy Hadler Roth (above) and his wife's late mother Sheila Crase.
"My wife Shelby and I have both lost our mothers due to complications with breast cancer," he said. "Because of this, I am well aware of many of the hardships that come with a diagnosis, from extra emotional support, medical bills, job loss, travel expenses, and much, much more.
"Many people are affected by breast cancer in some way. That's why I'm stepping up to fight breast cancer. As a parent, I want to set a good example and educate my children on helping others when we can. As a teacher and coach, I am in a position to reach people that can make a difference within my community, I believe that gives me an obligation to do so."
The "Wear Pink" campaign continues through Oct. 31, and Roth will continue to fundraise.
"Brent has increased his goal to $5,000 and he's now partnered with local businesses to 'Sponsor a PHS Touchdown' and donate a fixed amount for every PHS football touchdown during October," Manshack said.
Roth said Amanda Rhyne suggested the touchdown sponsorship.
"Amanda and her husband Johnny made the first pledge," he said. "Their son Tyler is one of our football players."
During Friday night's game against Dexter, the Pirates scored one touchdown, which raised $320.
This Saturday, Oct. 24 is the PHS Homecoming game, which kicks off at 1 pm against Herculaneum, and district play begins Friday, Oct. 30. Each touchdown on Saturday, Roth will raise $420 for the American Cancer Society.
If you'd like to sponsor a touchdown or donate to the American Cancer Society, visit Brent Roth's page at https://secure.acsevents.org/site/TR?px=56547373&fr_id=97826&pg=personal.