District 32 schools return to 5-day on campus instruction in January
Kate Martin
Friday, December 11, 2020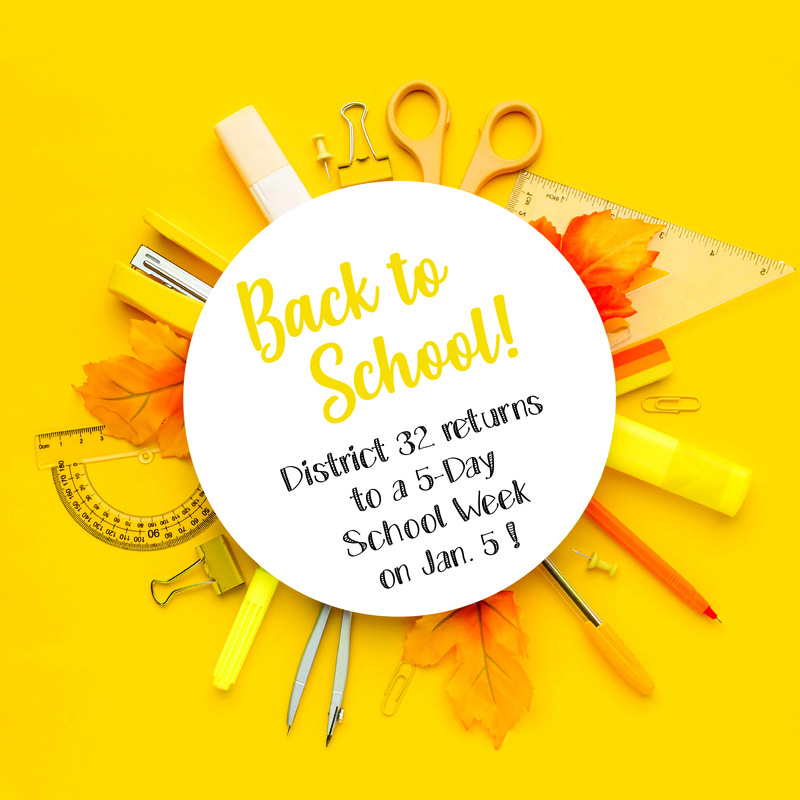 District 32 schools return to 5-day on-campus instruction in January
All District 32 Pirates On Campus students will resume in-seat classes five days per week when schools reopen after the holiday break.
Second semester begins on Tuesday, Jan. 5, 2021 for both Pirates On Campus and Pirates At Home, the district's online learning program. All students will receive second-semester schedules prior to Jan. 5.
"Our goal for this school year was to create an incredibly safe environment for learning and teaching while offering as much in-seat instruction as possible," said Superintendent Andy Comstock.
"During our planning over the summer, everything was an unknown, because schools had been closed since the pandemic hit our area. So we planned for the worst-case scenario, which would be widespread transmission of the COVID-19 virus in our schools that mirrored what we saw in the community. We put in place extensive protocols for mitigation that included masking, physical distancing and fewer students on campus.
"And it worked. The Health Department has consistently said that our students are safer at school than they are outside of school. We've had no widespread transmission of the virus inside our classrooms and schools; nearly all of the cases we've encountered have originated outside school. Even while the community is at the red alert level our protocols are working. We simply don't have the same rate of transmission as seen in our larger community."
On Nov. 12, Gov. Mike Parson announced modifications to the state's K-12 school pandemic procedures, in conjunction with Missouri Department of Health and Senior Services and Missouri Department of Elementary and Secondary Education.
Under this new guidance, students and staff who are exposed to COVID-19 in the school setting may be considered "Allowable Close Contacts" if both parties were properly wearing a CDC-recommended mask. (You can read more about the mask mandate and Allowable Close Contacts at www.pcsd32.com.)
For that to happen, the district had to be under a mask mandate, whether it was issued by local government or the school district. The Board of Education approved the district's mask mandate at its Dec. 9 meeting.
"Now all of the pieces have come together," Mr. Comstock said. "Our custodians are doing a great job at keeping our facilities clean and disinfected. Our students and staff are washing their hands, keeping 6 feet apart whenever they can, and masking properly. We have the mask mandate, which clearly outlines both expectations for proper mask usage and helps students stay in class if they have a close contact while they are in school."
For our younger students in Grades PK-5, very little will change in their daily routines — they will just resume in-seat classes on Wednesdays.
Middle school students in Grades 6-8 will be in school every day, on a modified block schedule. Students at this level may be masked for longer periods during the day, depending on the number of students in each class.
High school students in Grades 9-12 and those at the career center will see the greatest change after the New Year, as they resume five days of in-seat instruction instead of the A-B schedule that saw them in class two days per week. This group of students will spend most of the day masked, as class sizes will be greatly increased with the return of all students to campus.
Mr. Comstock stressed that students and staff will continue to physically distance whenever possible to reduce the risk of transmission of the virus in the school setting.
"We do recognize that we're doubling the population of students on campus at the middle and high schools, as well as our career center," he said, "With that, there will be a higher risk of transmission of the virus. However, we're going to continue to physically distance whenever we can. We're going to continue sanitizing and promote hand-washing.
"We expect to continue to see a high level of safety for our students and staff. However, if at any time we or the health department determines that we're having spread in a building or across campus, we may temporarily revert to the A/B second-semester scheduling. The health and safety of our kids comes first."
Mr. Comstock said that administrators and teachers are looking forward to school days that feel more "normal."
"We miss our kids," he said. "We want them here every single day where we can help them learn and grow. I'm praying that everyone has a happy and very healthy break so we can hit the ground running on Jan. 5."