Pfaff qualifies again for All-State Jazz Ensemble contest
Kate Martin
Tuesday, January 19, 2021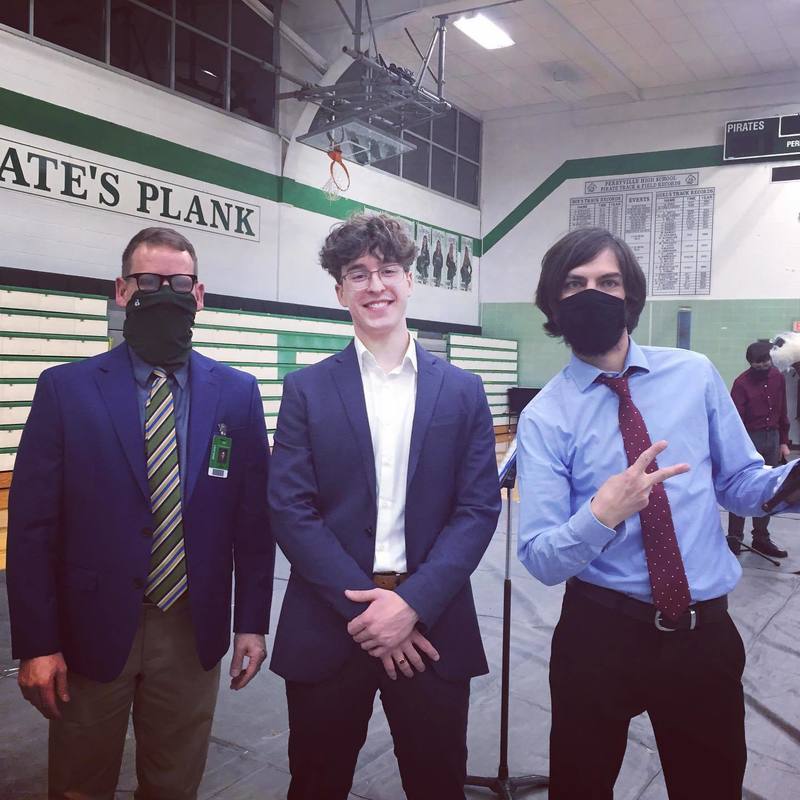 Photo: Will Pfaff, a PHS senior who will soon audition for the All-State Jazz Ensemble, is pictured with band directors Jerry Childers (left) and David Barani.
Perryville High School musician Will Pfaff has earned a spot on the All-District Jazz Ensemble for the second time, qualifying for the All-State auditions. He earned a spot on last year's All-State Jazz Ensemble as a bass guitarist, and performed with the other All-State musicians at Southeast Missouri State University.
"This year's process was very different," Will said. "In the past, musicians auditioned in person, playing along with the score in front of a judge. Because of COVID-19, we auditioned by sending recordings; it's a band only on paper because there will be no performance. I am disappointed that I won't get to play with other students from the area. I really enjoy playing music with others and hearing all of the parts come together."
The All-State Band auditions begin in February, and Will will again audition by submitting a recording of himself playing bass to jazz scores. Students who earn their All-District seats can audition for the All-State ensemble, which will include the best 20 musicians in the state — with just one bass guitarist. Results will be announced in March.
Watch Will perform with classmate Lauren Moore, and PHS Band Directors David Barani and Jerry Childers at https://youtu.be/P_fVK6MsngQ.
Will is also an award-wining pianist, earning the Exemplary "1" rating at district competitions his freshman and sophomore years, and bringing home Gold and Silver solo pianist awards from state competitions. He's also earned district and state awards in voice contests.
Will is the son of Kenny and Angie Pfaff of Perryville, and the brother of Allie Graviett-Pfaff and Wesley Pfaff, who just earned a spot on this year's middle-school All District-Band. He is the grandson of Gerry and Ginger McCloud, Judy Pfaff and the late Al Pfaff, and the late Vernelle Olsen.
Will's parents gave him his first instrument when he was 5.
"On a whim, we bought an electric keyboard at a garage sale," Angie said. "When Will was able to pick out The Wedding March and the Mario Brothers music by ear, we decided this kid may need lessons. He was around 7 or 8 years old when he started taking piano lessons. Since then, he has learned the guitar, bass, along with stand-up bass, trumpet and who knows what else."
The "what else," according to Mr. Childers, is "anything with valves," adding that Will can play trumpet, and is picking up trombone, tuba and saxophone.
Although Will has cemented his place on the jazz band, he got off to a shaky start.
"I wanted to join jazz band my freshman year and I really wanted to play bass," he said. "Mr. Childers wanted me to play trumpet, but I kept pushing for the bass. He finally asked me if I knew the jazz scale and I said that I did. But I didn't! I had hurry up and figure it out. That's what I call hands-on learning."
Will has been accepted to Southeast Missouri State University, the University of Missouri-Columbia and Missouri State University, but has not yet chosen where he will go to college in the fall. "I am auditioning for the SEMO band in February," he said. "I will play all of my instruments and hopefully really showcase my abilities so I can pick up some scholarships," he said.
Will said his band directors, Mr. Childers and Mr. Barani, have helped him grow as a musician. He also had earlier instruction from Bill Fischer, and Eric and Janet Seibel, and still takes piano lessons from Terry Edwards.
"One of the coolest things is that I was a student of these really great musicians and now I have opportunities to play alongside them," he said. "I've been lucky to have the best music instructors."
Will himself currently teaches piano and guitar, but he doesn't plan a career as a music teacher.
"Teaching is incredible," he said. "I really enjoy when I see a music student understand a concept and their whole face lights up. But performing is the fun for me. I love playing with a group, especially a jazz group. When you're playing jazz, you're really paying attention to all the other musicians. If the sax player is really shredding a solo, you play to support them. It's the best."
Mr. Childers said that he and Mr. Barani might teach musicians like Will a few things, but they really just guide them through their musical education.
"When you have a student like Will who is talented and works hard and has very supportive parents, that makes our job easier and a lot of fun," he said. "You never forget students like that, and we've had so many over the years. I think of students like Alex Laws, Jocelyn Brauns, and Anna Huskey, who were all as enjoyable as Will. It's great to be able to see a future so bright for them in music."
Will, who both reads music and plays by ear, said he's looking forward to the spring semester of music at PHS, where he is a member of concert band, jazz band, concert choir and marching band.
"We couldn't have marching season in the fall due to the pandemic, so we're starting it now," he said. "We were able to play together as a whole band only twice last semester, once at Veterans Day and then at our December recital. I'm really happy that we'll be performing together again."
The community can see Will as the featured piano player in the front ensemble on April 1 when the PHS Marching Band hosts a community concert at Pirate Stadium. Watch the District website at www.pcsd32.com for times and details as they become available.