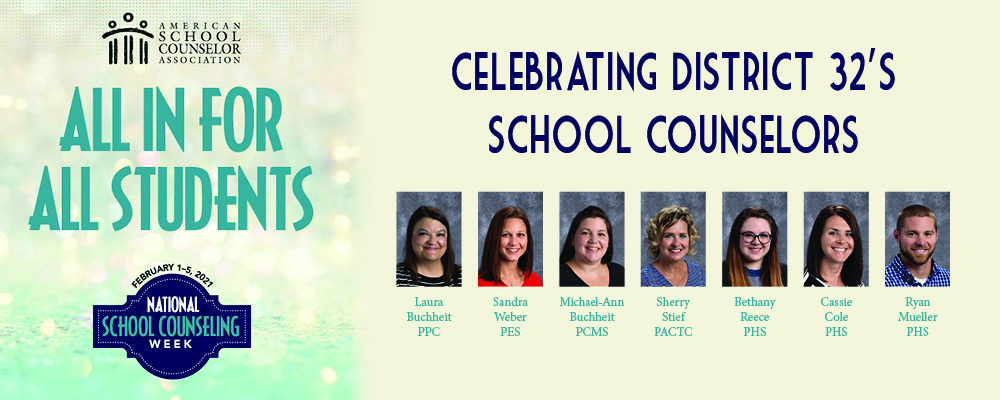 D32 celebrates counselors during National School Counseling Week, Feb. 1–5, 2021
Kate Martin
Tuesday, February 02, 2021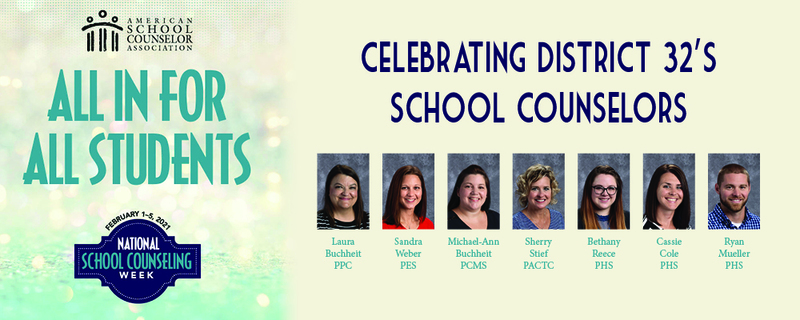 District 32 is observing National School Counseling Week 2021 this week. This year's theme is "School Counselors: All in for All Students," and it is sponsored by the American School Counselor Association (ASCA) to focus public attention on the unique contribution of school counselors within U.S. school systems and how students are different as a result of what school counselors do.
"National School Counseling Week highlights the tremendous impact school counselors can have in helping students achieve school success and plan for a career," said Stacey Seabaugh, director of special services at District 32.
"District 32's counselors implement comprehensive school counseling programs, a vital part of the educational process for all students as they meet the challenges of the 21st century," Mrs. Seabaugh said.
The district's school counselors are:
Mrs. Laura Buchheit at Perryville Primary Center
Mrs. Sandra Weber at Perryville Elementary School
Mrs. Michael-Ann Buchheit at Perry County Middle School
Mrs. Sherry Stief at Perryville Area Career and Technology Center
At Perryville High School

Mrs. Bethany Reece
Mrs. Cassie Cole
Mr. Ryan Mueller
"Our school counselors serve our students in so many ways," Mrs. Seabaugh said. "While a school counselor's primary role is to work with students to support their academic success, our counselors are also on the frontline of supporting the social-emotional wellness of our students. They are an integral part of the educational process and a vital resource for students and families."