D32 Pirate Pairs share what they love about D32
Kate Martin
Friday, February 12, 2021
In honor of Valentine's Day, we asked our staff to tell us about their Pirate Pair and what they love about D32.
Hint: It's the kids.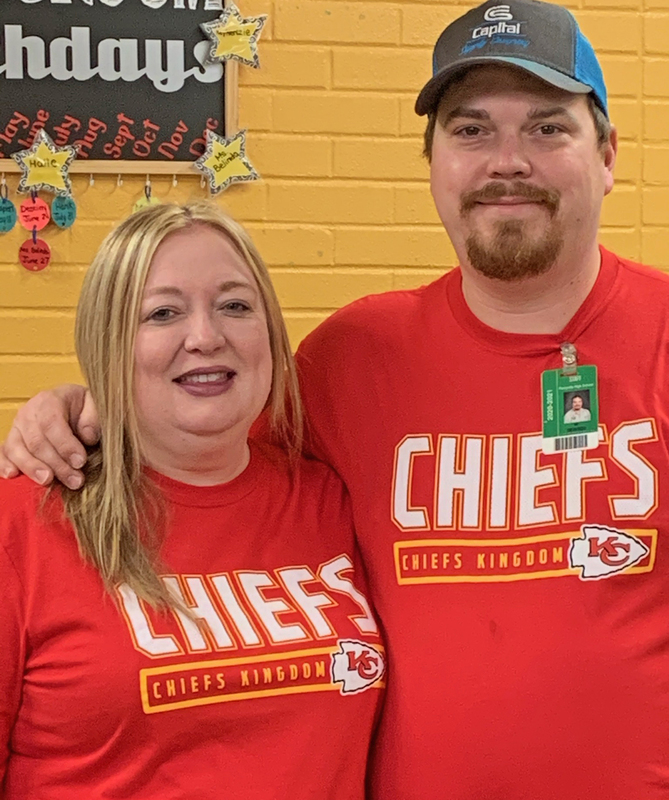 Amanda and Dan Oberkirsch
PHS Functional Skills instructor Amanda Oberkirsch and her husband Dan, the director of maintenance, said they both love working at D32 "because of the wonderful students."
Hayley Buchheit and Michael-Ann Buchheit
Sisters-in-law Hayley Buchheit (left) and Michael-Ann Buchheit said; "We both love working at D32 because we are able to give back to the students of our hometown alma mater." Hayley is director of Little Pirates Preschool and Michael-Ann is the counselor at Perry County Middle School.
Amy Camarillo and Samuel Camarillo
Amy Camarillo is the Business/Marketing Instructor at the Career Center/High School and her son Samuel Camarillo is a junior at PHS. "My husband & I both graduated from Perryville High School (met here) and then I came back to work here (19 years so far). Having our son put on a Pirate uniform and walk the same halls, makes us proud to be Pirate Parents now."
Emilee Allen and Pam Wood
Emilee Allen (left) is the administrative assistant for the D32 Technology Department and her mother Pam Wood is the administrative assistant for the technology department.
"I love when my phone rings and I see Emilee's name is on the other line," Pam said. "We may have talked just five minutes ago, but it's wonderful to know that she will call me to help her diagnosis a problem no matter how big or small it is. I have worked at D32 for 23 years and have worked with a lot of wonderful people and met a lot of great families."
Emilee has worked at District 32 for five years.
"I love working at D32," she said. "For me, it's home. My mom has worked within the district since I was in first grade so it's been part of my day to day for so long. I enjoy getting to come to work every day knowing my mom is one building over and she's knowledgeable about how the district runs in so many ways she's my go-to for a lot of things. Getting to work district-wide I've met a lot of people along the way and I wouldn't trade it."
Kate Martin and Stacey Seabaugh
Kate is the communication director and Stacey is the special services director. "When the old early childhood building was demolished, Stacey and her team moved into the Old Senior High. "We shared an office for a few years and working so closely with someone who 'gets' you makes the workday more enjoyable. Chance made us colleagues, but the passion we share for helping kiddos made us friends."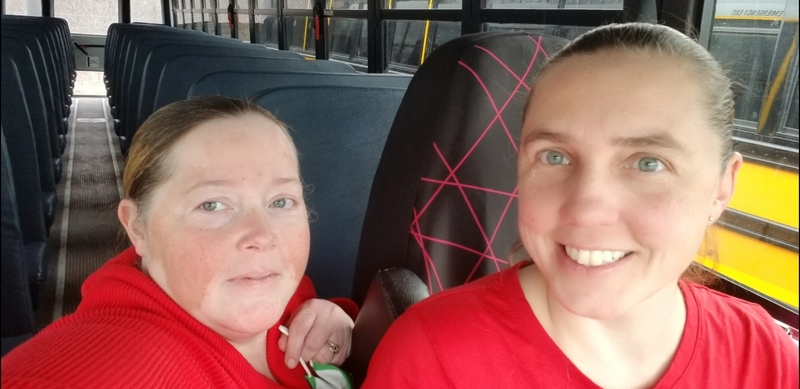 Kristy Poirrier and Mandy Chotrow
"We are sisters! Our names are Mandy Chotrow and Kristy Poirrier. We are professional student transporters, aka school bus drivers, for D32. We are part of the D32 Transportation Department. We love coming to work every morning and seeing the children eager and ready to go to school. We enjoy watching our kids grow and learn throughout the years that we have them. We are D32 family and we love what we do!"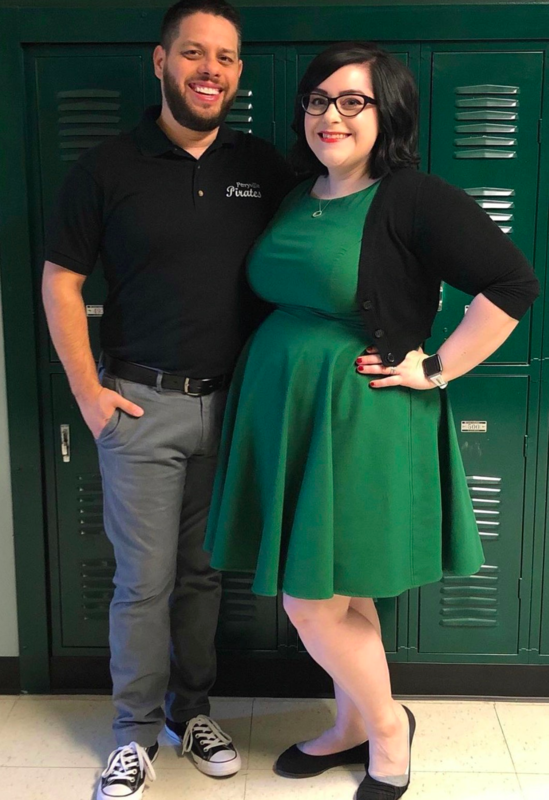 Hunter and Sarah Hendricks
Hunter Hendricks and Sarah Hendricks both work at Perryville High School. Hunter teaches English-language arts and Sarah teaches science. They will be married 10 years this year! "We both love working at D32 for the same reason: the students! As intentional non-parents ourselves, our students really are our kids."
Nikki Robinson and Logan Davis
Mrs. Logan Davis and Mrs. Nikki Robinson are both employed by district 32. Mrs. Davis is the school nurse at the primary building and Mrs. Robinson teaches fourth grade in the elementary building. These besties met on the first day of freshmen year at D32 after finding each other in the same PE and history classes. They instantly hit it off and have spent the last 15 years enjoying their youth, growing up together and now having their own families! It's truly a blessing working a sidewalk away from your bestie. Mrs. Davis says the best part of working at D32 is living out her dream of being able to help and care for kids! Mrs. Robinson loves her job because she gets to be a kid every day and help students discover their own potential within and reach their goals!
Josh and Cassie Cole
Josh and Cassie Cole have been married for 10 years and they both work at Perryville High School. Cassie is a school counselor and Josh is a social studies teacher. They write: "We both love working at D32 because we enjoy working with and talking with students. It's always fun to hear back from past graduates and hear about their experiences after high school. D32 encompasses a great group of teachers, administrators, and support staff who have become a second family. This family is always there for each other no matter what."
Kate Martin and April Weibrecht
Kate is the director of communications for the district and daughter April is an aide at the middle school. They are alumni of PHS. "We're a Pirate family — we're all grads of PHS! We love working at D32 because it's an extension of our Pirate family. And there's nothing better than having the opportunity each day to make a difference in the lives of children."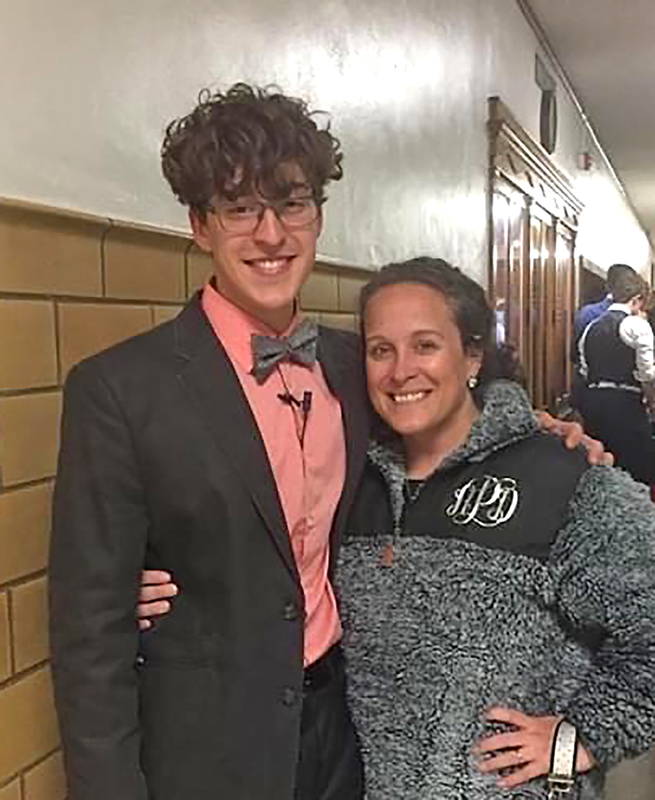 Will Pfaff and Angie Pfaff
Will Pfaff is a senior at PHS and his mother Angie Pfaff is the attendance secretary there.
"Will and I are cut from the same cloth," Angie said. "That can be good and that can be bad, but it can always be a fun time! My favorite thing about working at D32 is being a part of an amazing community, a community that allows me to have a front seat to my kids growing up!"
Will's favorite thing about being a student at D32 is the teachers. (His mom thinks it's because she works here, but he didn't say that.)