PCMS students create Rube Goldberg Machines
Kate Martin
Friday, February 26, 2021
Students at PCMS construct Rube Goldberg Machines.
PCMS students create Rube Goldberg Machines
Perry County Middle School students recently created and operated Rube Goldberg Machines. These devices are over-engineered to perform a simple task in a complicated way. (Think of the board game Mouse Trap.) Rube Goldberg projects allow students to explore STEM (Science, Technology, Engineering and Math) concepts.
According to rubegoldberg.com, Rube Goldberg was an American cartoonist and inventor "and the only person ever to be listed in Merriam-Webster's Dictionary as an adjective. Of the nearly 50,000 cartoons he drew in his lifetime, Rube is best known for the zany contraptions of Professor Butts. These inventions, also known as Rube Goldberg Machines, solved a simple task in the most overcomplicated, inefficient, and hilarious way possible."
Rube Goldberg Machines typically include most of the six simple machines as described by Golderg — the wedge, screw, lever, wheel and axel, inclined plane and pulley.
A hilarious contraption designed by American cartoonist Rube Goldberg. Source: www.rubegolderg.com.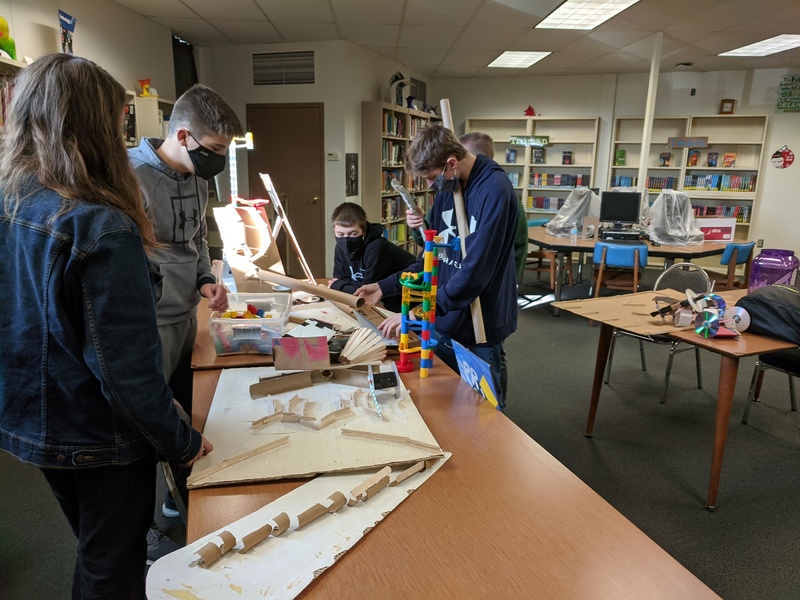 Students are testing their Rube Goldberg Machines.