Can you guess what PPC will be reading?
Kate Martin
Monday, March 01, 2021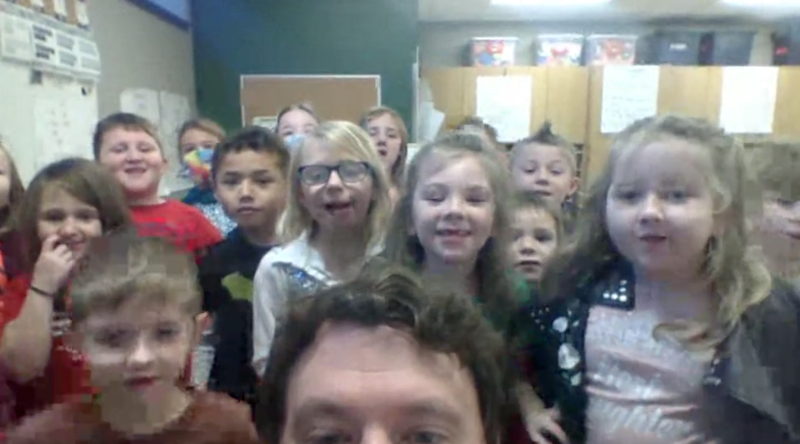 Photo: Mr. Stephen Mosier's first graders think the book will be "Monster in the Backpack."
There's a great mystery at Perryville Primary Center, and we're all examining clues in an attempt to solve it. The question is: What book will we be reading?
For the second year in a row, Perryville Primary is participating in the One School, One Book event for Read Across America Day, which is held March 2. Every student and staff member at PPC will receive a copy of this year's book tomorrow.
Mrs. Michelle House, librarian at PES, has been giving hints about this year's book selection, and children and staff have been making guesses.
"All students and every adult — teachers, principals aides, custodians, cafeteria staff, and school nurse — will receive a wrapped book," Mrs. House said. "After a special announcement, the book will be unwrapped. Each day the students will listen to a small part of the story read by their teacher, then the story will be explored through vocabulary, trivia questions, a daily changing bulletin board, Flipgrid questions, as well as other projects. Everyone will finish reading the book on Friday, March 19."
On March 23, during the Drive-Thru Reading Family Fun Night, families will receive the second book in the series and a reading schedule that all PPC families will follow. This home-school collaboration is proven to advance children's literacy skills.
Do you want to help us guess what our PPC family will be reading?
Here are the clues:
o Mrs. House was wearing a backpack with something brown poking out
o Three mice
o This book is part of a series
o The Toy Story movie
One School, One Book is the flagship program of Read to Them, a national nonprofit based in Richmond, Va. The organization's mission is to create a culture of literacy in every home. "The secret sauce of family literacy is to create a symbiosis between home and school. When students see their book being read, shared, and discussed at home and school, they are surrounded by the culture of literacy," explains Bruce Coffery, Read to Them Director of Programs.
Come back tomorrow to learn what book we'll be reading and to see the children's reactions to the unwrapping!