The PHS Student Council includes (front, from left) President Megan Buchheit, Vice President Maddie Robinson, Secretary/Treasurer Taegan Gerler, Corresponding Secretary Averie Tucker, Recording Secretary Kellyn Friedman, Reporter Noah Bergman, and sponsor Mr. Brent Broeking. Row 2 – Seniors Katie Roberts, Katie Burns, Dayton Strattman, Aubrey Wortmann, Aleah Caddell and Kira Hagan, and juniors Caden Litterst, Alyssa King, Jaelyn Kennedy, Jarret Anderson, Kyla Schnurbusch, Drew Layton, Mackenzie Dillahay. Back – Sophomores Rilaynd Graham, Daisy Ernst, Addysun Vaeth, Ashlynd Yamnitz, Drew Rodewald, Josie Christisen, McKenna McClure and Ana Moll; and freshmen Jake Cissell, Wyatt Schremp, Aubrie Bell, Ellie Gerler, Savannah Young, Preston Hoeckele, and Kara Williams. Not pictured are seniors Brandon Martin and Sonora Bishop, junior Mika Detjen and freshman Kaiden Morgan.
Perry County School District 32 is celebrating the announcement that Perryville High School's Student Council has again been named a 2022 Missouri Gold Honor Council by the Missouri Association of Student Councils (MASC).
The award was announced at the recent state convention at Branson High School. PHS Stuco was recognized for its involvement at the local level, in the District Student Council, and involvement at the state level. Only 54 Missouri high school student councils met the criteria for this award.
PHS submitted an application to the MASC Honor Council Committee and MASC Advisory Board, and met the criteria which include having a comprehensive program to promote student activities and student leadership. Activities include school service, spirit, community service, student and teacher recognition, and leadership training activities.
Mr. Brent Broeking, the council's advisor, said that PHS Stuco "works to better the school in many areas: school spirit, school service, student and faculty relations. The Perryville Student Council tries to strengthen the ties between the school and the community through community service and charitable work. The student council class at Perryville High School, Principles of Leadership, gives the members the chance to learn and improve leadership skills through the planning and executing of many activities and projects."
Stuco President Megan Buchheit said that PHS Stuco gives members the opportunity to grow as leaders. "It definitely builds your leadership skills and character," Buchheit said, "and it also helps you create bonds with students outside of your immediate friend group."
Vice President Maddie Robinson said that Stuco is focused on building school spirit, which the teens say has been impacted by the COVID pandemic. "Before the pandemic, we were able to host many events and perform community service," Robinson said. "I'm glad that we, as seniors, were able to experience those things our freshmen year. Underclassmen don't really have an idea what high school was like before social distancing, so we're excited that spring is looking like it will be more of a 'normal' time for us. We are really hoping to get permission to host a high-school field day this spring to remind everyone that school is enjoyable and to provide an opportunity for the socialization that we've missed."
PHS Stuco hosts assemblies for homecoming and prom, holds fundraisers for organizations like Relay For Life, and reaches out to the community through activities like painting windows at area assisted living centers.
"We are starting our very first fundraiser for the Humane Society," said Taegan Gerler, secretary/treasurer of PHS Stuco. Recording Secretary Kellyn Friedman said that she's helping Stuco to organize a free car wash in May.
Reporter Noah Bergman said his favorite Stuco event is the annual Special Olympics, which sees students with special needs compete in track and field events. Stuco members run the events, and serve as cheerleaders for the competitors. "We look forward to Special Olympics all year," Bergman said.
Corresponding Secretary Averie Tucker said that she hopes next year brings back favorite Stuco activities that have been canceled. "We did a donation drive downtown for the Relay For Life, and hosted a Senior Citizens Dinner each Thanksgiving," Tucker said. "I hope they can resume those events next year."
Mr. Broeking said that the current Student Council has made the best of the situation.
"This year's members have had to deal with the lingering issues of the pandemic," he said. "Many of the activities and projects that we have done in the past have had to be canceled or changed, but this group has risen to the challenge and has overcome. The Honor Council Gold Award is a testament to the hard work and dedication these students put toward making their school and their community a better place."
Buchheit said that Mr. Broeking deserves credit for Stuco's success. "He does a lot for us," she said. "He's always willing to help with our planning and events." Tucker added, "Mr. Broeking cares deeply about us, how we are perceived, and helps us guide the council to better our school."
The entire Student Council is invited to the April 13 Board of Education meeting, where board members will honor them for their achievement and continuing commitment to Perryville High School.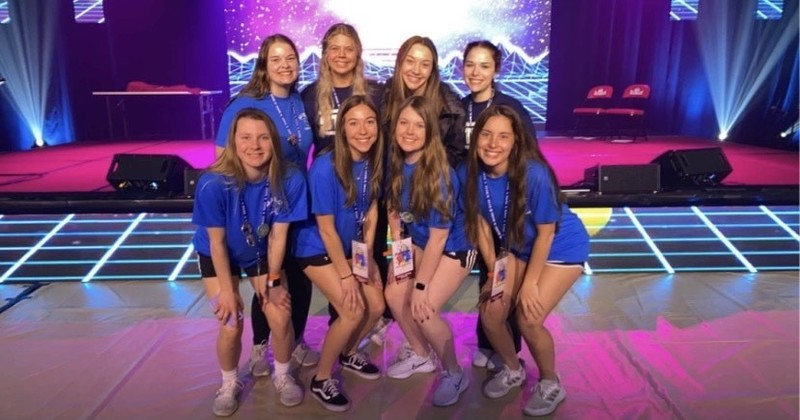 Photo courtesy of Maddie Robinson
Perryville High School Student Council members recently attended the Missouri State Student Council Convention at Branson. Pictured are (front, from left) Kyla Schnurbusch, Jaelyn Kennedy, Mackenzie Dillahay, and Alyssa King. Back – Maddie Robinson, Taegan Gerler, Averie Tucker, and Kellyn Friedman.