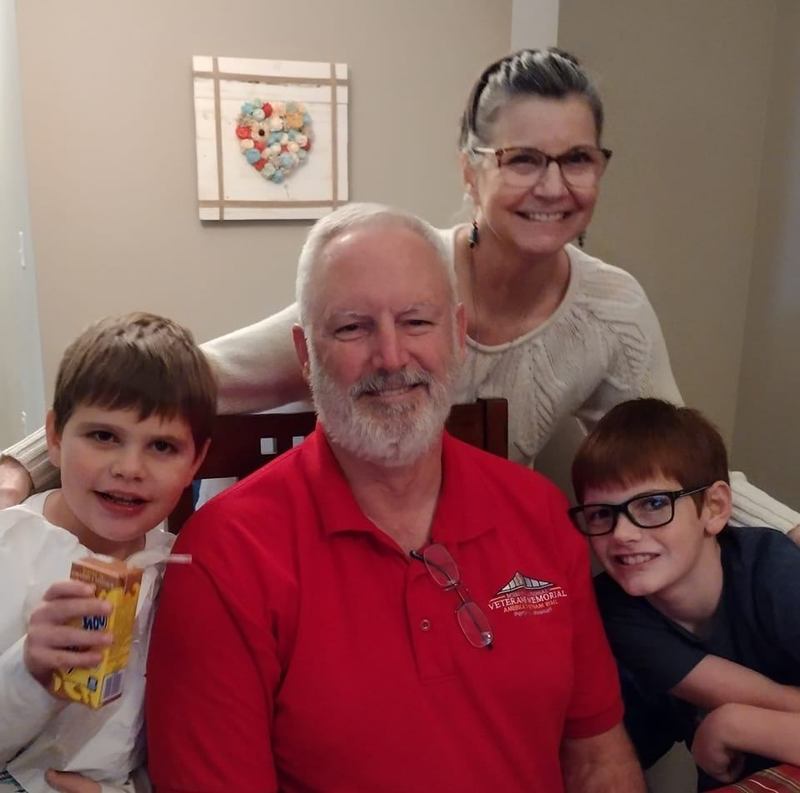 Milt and Sherri Wick with grandsons Hank (left) and Wyatt.
Principal Milt Wick has visions of fishing poles dancing in his head as he enters the final semester of his career in public education. He will retire from Perry County Middle School on June 30, and plans to spend as much time as possible enjoying the great outdoors with his grandsons Wyatt, 9, and Hank, 6.
"Sherri, my wife of 37 years, retired last year so this is the perfect time for us," Mr. Wick said. "My daughter's family lives in Festus and her sons are becoming more active in sports and outdoor activities and we don't want to miss a thing. We're ready to participate in all of their school events and really enjoy being grandparents. We've been blessed to travel a lot already, so we want to explore Missouri's parks in the coming years."
Mr. Wick is a veteran of the United States Marine Corps, serving from 1985-94 and then entering the Marine Reserves. Lt. Col. Wick was deployed in 2003 to lead 1,100 Marines in Iraq for 8 months.
"At that time, I was teaching and coaching, was in school myself for my master's degree, and my daughter was in her senior year of high school," he said.
Fast-forward to 2007, and Mr. Wick had landed his first administrative position as high school principal at Carthage R-9 School District in southwest Missouri. He served there until coming to District 32 in the fall of 2017.
"District 32 has become home to me," he said. "I am proud of the team we have at the middle school, and the work we do here. I will miss seeing my colleagues doing great things, and sharing with them the experiences of dealing with middle school kids. I have seen my staff do wonderful things to benefit students, and make personal sacrifices to make sure our students are taken care of."
Mr. Wick himself is known for doing whatever it takes to ensure students have what they need to succeed. "It's not a secret that Milt Wick has a heart of gold," said fellow administrator Kate Martin. "Whenever Milt hears of a person or family in need, he's the first to offer assistance. He volunteers in so many capacities to help make our school and community a better place for children; we're going to miss his quick wit and leadership."
Throughout the course of his 30-year career in education, Mr. Wick has taught in Texas and Missouri, and coached basketball, volleyball and track.
"As I reflect on those years and experiences, I hope that I've made positive contributions to students and their families," he said. "I have always been very interested in their future success and in helping them gather the tools they need to be successful in our nation. I have tried to help them understand that they have the freedom of self-determination: they can make choices that make their lives better, they can be true friends, and they can contribute to their community.
"I am looking very forward to seeing the Class of 2022 graduate on Friday, as they were my first eighth-grade class as principal at PCMS. I know they have a great future ahead of them."
The concern that Mr. Wick has as leaves education is the impact that societal changes have on students. "My primary concern is that technology must be embraced for students to be ready for the workforce, but at the same time technology is impacting families in negative ways. Parents and grandparents raising children today often don't have the skills they need to understand what their students are doing with technology at school, or when they are their devices when they aren't at school.
"My concern is that my students' social skills are losing out to technology. In any job that they may have they need to be personable and able to carry on a conversation, be able to work with others and be empathetic to the needs of others, and sometimes you have to put those needs ahead of yours to accomplish your mission. Without practicing those things outside of school, students are going to struggle."
Mr. Wick sees promising things in education today as well. "We are focusing on skills standards and ensuring that each student achieves those standards," he said. "We are more inclusive of all populations. Our students with special needs are mainstreamed and really a part of our school community. Students are learning to work with and care for others who may not have the same capabilities, and that makes for better kids. The way our students treat one another is great; by and large, I see kids looking out for other kids here all the time. That's a good thing."
Assistant Principal Nicholas Cowell has been named as Mr. Wick's successor at PCMS.
"Mr. Cowell is going to be a fantastic principal," Mr. Wick said. "He is from Perryville, went to Missouri S&T and played football there. We've worked together two years, which I've greatly enjoyed, and I see myself more as a mentor than a boss to Nick. He came to us with lots of skills and an alternative school background which allows him to help kids turn it around before their problems become insurmountable. PCMS will be in excellent hands."
But for now, Mr. Wick is fully focused on his mission.
"We still have (a few days) of school remaining," he said. "We've had a great school year and we're going to end it on a strong note."
Milt Wick on a recent trout fishing trip