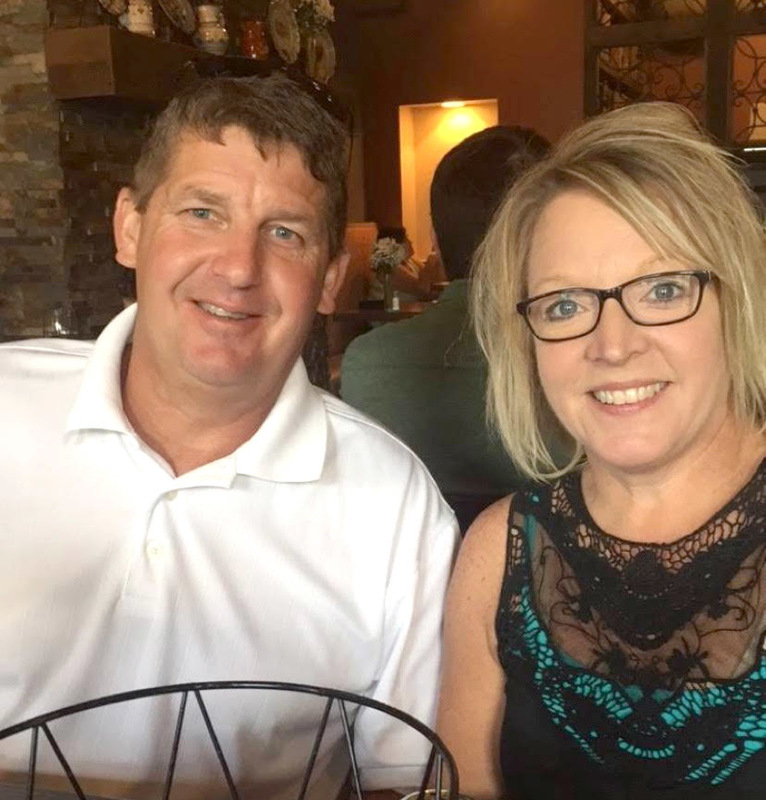 Jeff and Jill Steffens
Perryville High School Principal Jeff Steffens is retiring in June, but the lifelong Pirate isn't quite ready to bid a final farewell to District 32.
Mr. Steffens joined the staff of Perry County School District 32 in 1991 as a fifth-grade teacher at Perry County Middle School. Over the past 31 years, he has become a leader that both students and staff respect and admire.
"He's the heart of our district," said fellow administrator Stacey Seabaugh. "Jeff Steffens loves this school, he loves serving his students, and our community. While our administrative team is happy for Jeff as he prepares for his retirement, we're going to feel his loss deeply. It feels impossible to replace his institutional knowledge, and we'll all miss his guidance, his empathy, and his willingness to help wherever he's needed."
Mr. Steffens wasn't always sure what he wanted to be when he grew up. "I hadn't chosen a major or a career field when I started college," he said. "Several people suggested that I would be a good teacher, and my youngest sister was born when I was 17 and I realized that I really enjoyed being around kids, so I declared an education major."
He earned a bachelor's degree in elementary education in 1990 from Southeast Missouri State University. "I was then hired here as a teacher's aide in Fran Bohnert's classroom and coached three sports – football, basketball and track at middle school. I was hired as a fifth-grade teacher the following year when Mrs. Grebing retired, and continued coaching three sports for my first 8 years in the classroom." He coached baseball until 2017. "I had the pleasure of coaching my own two sons during that time," he said, "and that's something I'm very grateful for."
Mr. Steffens earned a master's degree in administration from Southwest Baptist University. He was named the district's athletic director and PHS assistant principal in 2001, a job he held for 15 years. In 2016 he became the principal of his alma mater. "If someone had told me when I graduated from PHS that I would one day be the retiring principal, I would have called them crazy," he said. "I was ready for school to be over by the end of my senior year. I loved school because I loved playing sports; extra curriculars helped me get through high school and to be successful. I played football, basketball and baseball, and I ran track one year. My coaches expected a lot of me, as did my teachers. Still, I never would have guessed I'd be here 35 years later."
He's enjoyed being the building leader because it has given him the opportunity to support teachers as well as students. "As a classroom teacher you have the opportunity to build relationships with your students that allow you to help them be successful," he said. "Teaching is all about relationships, and in the classroom you can focus on kids individually. As principal, you don't have as much opportunity to know every student, but you play a big role in shaping the culture of your school by forging great relationships with teachers and by providing what they need to be their best."
Mr. Steffens said that, while kids are the same as when he began his career, schools and students face increasing challenges. "I remember introducing my fifth-graders to the World Wide Web back in the 90s," he said. "Now we're in this fully digital world. I think due to social media and 24-hour access to mobile devices, kids go through more stress than we did at the same age. That's mainly because people will say things online that are hurtful that they would never say face-to-face. People are now wired for instant gratification, too. Kids really haven't changed a whole lot, but society is changing so quickly young people often don't know how to adapt to it."
Shadrick Shafer has been named the next principal of Perryville High, and will officially assume those duties on July 1. Lisa Martin, a former English teacher at PHS, will be an assistant principal along with Justin Dreyer, who also serves as athletic director.
"Perryville High School will continue its legacy of excellence under Mr. Shafer's guidance," Mr. Steffens said. "Our school will continue to give our students opportunities that help them be ready for graduation and beyond. My father-in-law, former mayor Bob Miget, always told me he wanted to help build a community where children would grow up, go to college and return here to work and raise their families. I think Perryville does that. My dream has been and is that each generation of our students will be more successful than the previous – just like all parents hope their children are more successful than themselves."
There are things he will miss about calling the PHS Office his home base. "I'll miss daily conversations with my work family," he said. "I love to know how they are doing, so I want to stay in touch." He's also not quite done working at the District. "I plan to drive a bus and substitute teach in my retirement," he said. "Being around the kids and staff gives me a good reason to get up in the morning and not be lazy."
Mr. Steffens and his wife Jill, who was his high-school sweetheart, have been married 28 years and have three children who are all graduated from college – Marcus, who is a quality engineer at TG; Madeline, who is an ICU nurse at Barnes-Jewish Hospital in St. Louis; and Trent, who is an HVAC technician with Schumer Brothers. Jill co-owns M&M Kids Kampus with her sister, Jane Moldenhauer.
"Jill and I made the decision to stay in Perryville and to raise our children here," he said. "This is a family place, a small community where, if you treat people right they will treat you right. Giving and keeping your word is important, and that's how most people operate."
As much as Mr. Steffens loves Perryville, the community loves him; he was named the 2020 Citizen of the Year by The Republic-Monitor, and twice has been voted Best Principal in Perry County by The R-M's readers.
"I feel like those awards do not belong to only me," he said. "I couldn't do the things I do without a very loving and patient wife and family who understood all the hours I had to be away from home. I have two assistant principals and we work well together to make PHS a great school for students and staff."
When his retirement begins on July 1, Mr. Steffens plans to make up for some of that lost time by traveling and camping with Jill. "I want to enjoy hunting and fishing, gardening, and canning. I want to be able to help my wife at the preschool and be available whenever my kids need me."
As for his legacy at Perryville High School, Mr. Steffens wants to be remembered for one thing: "That I cared about people."
Jill and Jeff Steffens with their children (from left) Trent, Madaline and Marcus.