Text appears below images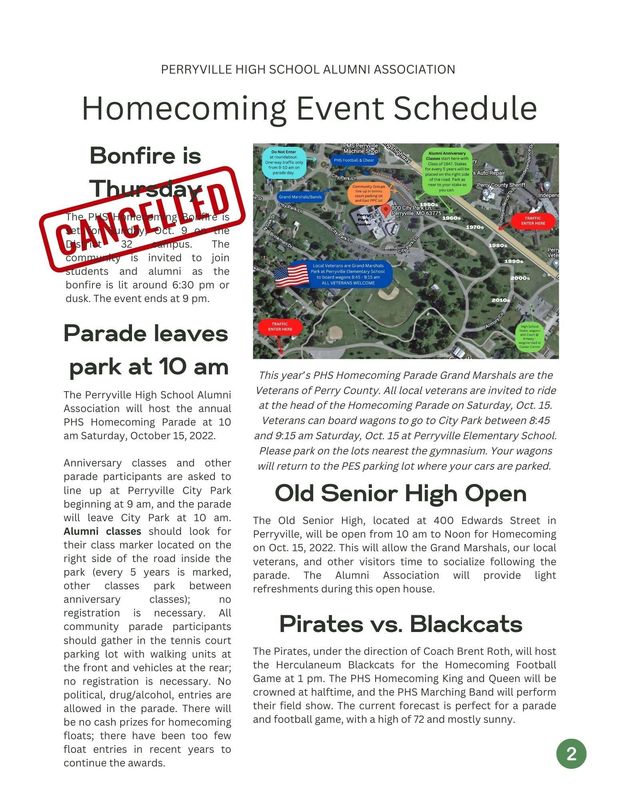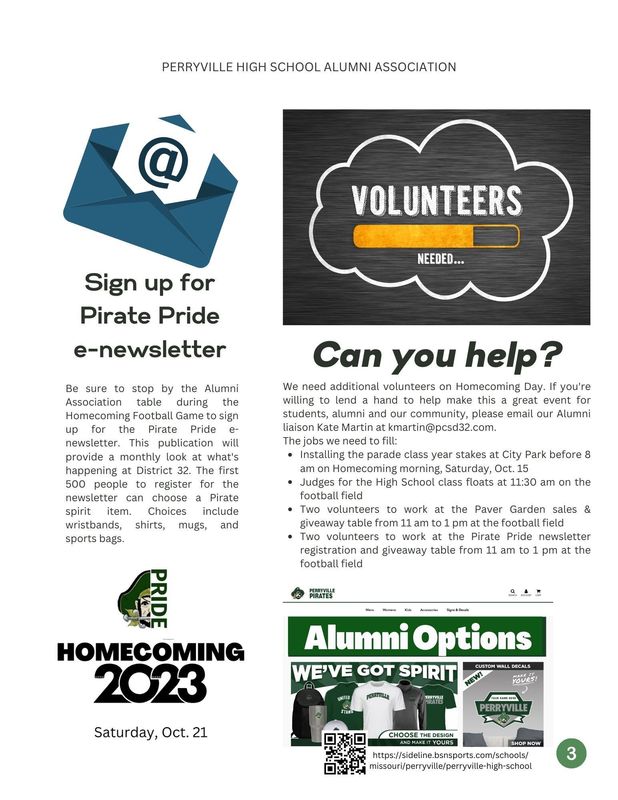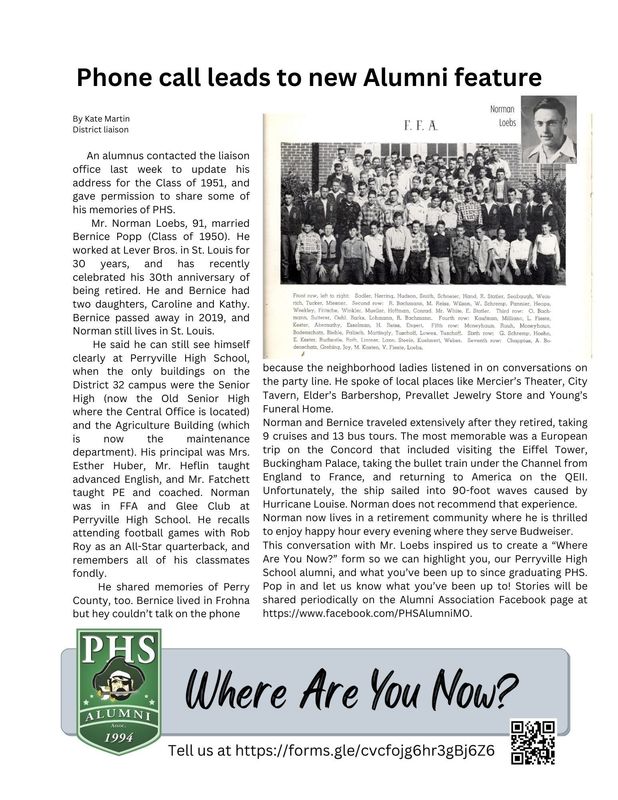 Perry County Veterans are the Grand Marshals of PHS Homecoming Parade
All local veterans invited - you don't have to be a PHS graduate
The 2022 Homecoming Parade Grand Marshals
are ALL Perry County Veterans, selected by the
Alumni Association in recognition of their
devotion to their community and country.
Eric Buchheit, president of the association,
said that veterans exemplify what it means to
be a Pirate. "The updated Belief Statement for
District 32 speaks of valuing our rich traditions,
achieving excellence through collaboration,
and that our district should set the standard
for excellence, inclusivity, diversity and
positive culture so everyone can reach their
full potential. That's our veterans – they set
the standard of excellence in these things for
our community and our nation. We considered
choosing a single veteran to represent this
idea but soon decided to invite all of our vets
to be our Grand Marshals."
You do not have to be a PHS graduate to ride
the Grand Marshal wagons. Please park at
Perryville Elementary School at 605 Schindler
Road in Perryville to board the wagons
between 8:45-9:15 am. The wagons will move
to the City Park promptly at 9:15 am. All
veterans who sign in will receive a certificate of
recognition from Perry County School District
32.
The Old Senior High will be open from 10 am to
12 pm for our Grand Marshals and visitors to
socialize, with light refreshments available.
Parade leaves park at 10 am
The Perryville High School Alumni
Association will host the annual
PHS Homecoming Parade at 10
am Saturday, October 15, 2022.
Anniversary classes and other
parade participants are asked to
line up at Perryville City Park
beginning at 9 am, and the parade
will leave City Park at 10 am.
Alumni classes should look for
their class marker located on the
right side of the road inside the
park (every 5 years is marked,
other classes park between
anniversary classes); no
registration is necessary. All
community parade participants
should gather in the tennis court
parking lot with walking units at
the front and vehicles at the rear;
no registration is necessary. No
political, drug/alcohol, entries are
allowed in the parade. There will
be no cash prizes for homecoming
floats; there have been too few
float entries in recent years to
continue the awards.
Old Senior High Open
This year's PHS Homecoming Parade Grand Marshals are the
Veterans of Perry County. All local veterans are invited to ride
at the head of the Homecoming Parade on Saturday, Oct. 15.
Veterans can board wagons to go to City Park between 8:45
and 9:15 am Saturday, Oct. 15 at Perryville Elementary School.
Please park on the lots nearest the gymnasium. Your wagons
will return to the PES parking lot where your cars are parked.
The Old Senior High, located at 400 Edwards Street in
Perryville, will be open from 10 am to Noon for Homecoming
on Oct. 15, 2022. This will allow the Grand Marshals, our local
veterans, and other visitors time to socialize following the
parade. The Alumni Association will provide light
refreshments during this open house.
Pirates vs. Blackcats
The Pirates, under the direction of Coach Brent Roth, will host
the Herculaneum Blackcats for the Homecoming Football
Game at 1 pm. The PHS Homecoming King and Queen will be
crowned at halftime, and the PHS Marching Band will perform
their field show. The current forecast is perfect for a parade
and football game, with a high of 72 and mostly sunny.
Sign up for Pirate Pride e-newsletter
Be sure to stop by the Alumni
Association table during the
Homecoming Football Game to sign
up for the Pirate Pride enewsletter.
This publication will
provide a monthly look at what's
happening at District 32. The first
500 people to register for the
newsletter can choose a Pirate
spirit item. Choices include
wristbands, shirts, mugs, and
sports bags.
Homecoming 2023
Next year's Homecoming is set for Saturday, Oct. 21, 2023.
Can you help?
We need additional volunteers on Homecoming Day. If you're
willing to lend a hand to help make this a great event for
students, alumni and our community, please email our Alumni
liaison Kate Martin at kmartin@pcsd32.com.
The jobs we need to fill are:
Installing the parade class year stakes at City Park before 8 am on Homecoming morning, Saturday, Oct. 15
Judges for the High School class floats at 11:30 am on the football field
Two volunteers to work at the Paver Garden sales & giveaway table from 11 am to 1 pm at the football field
Two volunteers to work at the Pirate Pride newsletter registration and giveaway table from 11 am to 1 pm at the football field
Phone calls leads to new Alumni feature: Where Are You Now?
An alumnus contacted the liaison
office last week to update his
address for the Class of 1951, and
gave permission to share some of
his memories of PHS.
Mr. Norman Loebs, 91, married
Bernice Popp (Class of 1950). He
worked at Lever Bros. in St. Louis for
30 years, and has recently
celebrated his 30th anniversary of
being retired. He and Bernice had
two daughters, Caroline and Kathy.
Bernice passed away in 2019, and
Norman still lives in St. Louis.
He said he can still see himself
clearly at Perryville High School,
when the only buildings on the
District 32 campus were the Senior
High (now the Old Senior High
where the Central Office is located)
and the Agriculture Building (which
is now the maintenance
department). His principal was Mrs.
Esther Huber, Mr. Heflin taught
advanced English, and Mr. Fatchett
taught PE and coached. Norman
was in FFA and Glee Club at
Perryville High School. He recalls
attending football games with Rob
Roy as an All-Star quarterback, and
remembers all of his classmates
fondly.
He shared memories of Perry
County, too. Bernice lived in Frohna
but hey couldn't talk on the phone
Phone call leads to new Alumni feature
because the neighborhood ladies listened in on conversations on
the party line. He spoke of local places like Mercier's Theater, City
Tavern, Elder's Barbershop, Prevallet Jewelry Store and Young's
Funeral Home.
Norman and Bernice traveled extensively after they retired, taking
9 cruises and 13 bus tours. The most memorable was a European
trip on the Concord that included visiting the Eiffel Tower,
Buckingham Palace, taking the bullet train under the Channel from
England to France, and returning to America on the QEII.
Unfortunately, the ship sailed into 90-foot waves caused by
Hurricane Louise. Norman does not recommend that experience.
Norman now lives in a retirement community where he is thrilled
to enjoy happy hour every evening where they serve Budweiser.
This conversation with Mr. Loebs inspired us to create a "Where
Are You Now?" form so we can highlight you, our Perryville High
School alumni, and what you've been up to since graduating PHS.
Pop in and let us know what you've been up to! Stories will be
shared periodically on the Alumni Association Facebook page at