Wyatt Duncan (left) as John Stapleton reveals that he is the murderer in the finale of "The Hound of the Baskervilles," presented by PHS Silver Dagger Players.
There was murder afoot at the Old Senior High over the weekend, as the Perryville High School Silver Dagger Players presented "The Hound of the Baskervilles" by Kent Brown. The show was directed by Jennifer Birk-Cook, directing her 44th show at PHS.
The show starred Lydia Chotrow as Jennie Watson, the niece of Dr. John Watson of Sherlock Holmes fame. Angel Mahathath played Holmes' niece Shirley, and the two filled in for their uncles to solve the murder of Sir Charles Baskerville. This comic retelling of Arthur Conan Doyle's classic tale featured a nutty naturalist named John Stapleton, played by Wyatt Duncan, who was revealed as the murderer – and a long-lost Baskerville – at play's end.
Angel Mahathath (left) as Shirley Holmes discusses the case with Trenten Myers as Sir Henry Baskerville and Lydia Chotrow, who starred as Jennie Watson.
The cast also included Katie Clifton as Dr. Maxine Mortimer, Trenten Myers as Henry Baskerville, Katie Broeking as Dorothea Stapleton, Eloise Bollinger as Barrymore, Jasmine Muench as Mrs. Barrymore, Damien Sneed as Hugo Baskerville, Jeffrey Redecker as Charles Baskerville, Grant Hotop as Selden, Anela Miller as Laura Lyons, and Chloe Cox as Victoria Lestrade.
Emma Fetterhoff played the maid and the maiden, Camryn Heim played the messenger, Mason Cottner was Perkins, Grant Hotop was the train conductor, and the henchman included Cox, Cottner, Hotop and Redecker. The sign holders were Kassie Hejnal, Camryn Heim, and Anela Miller. Heim was the hound.
Adam Duncan was the set designer, Jonah Cook was the sound technician, Birk-Cook created the sound effects, and Jayden Muench was the lighting technician. The stage crew included Katie Clifton, Chloe Cox, Emma Fetterhoff, Wyatt Duncan, Kassie Hejnal, Anela Miller, Adam Wilkes, Jeffrey Redecker, and Jonah Cook.
PHS Principal Shadrick Shafer said that the cast enjoyed their performances and they've gained new skills by participating in drama.
"For decades, the Silver Dagger Players drama productions have offered students an incredible opportunity to further their literary skills of analysis, interpretation, and performance," Mr. Shafer said. "At PHS, we believe in preparing students for whatever post-high school path they choose. This means developing soft skills like time management, self-motivation, and teamwork. Whether students decide to go on to college, join the military, or go into the workforce, these soft skills will serve them throughout their lives. Mrs. Jennifer Birk-Cook deserves a standing ovation for her dedication to these students and their futures."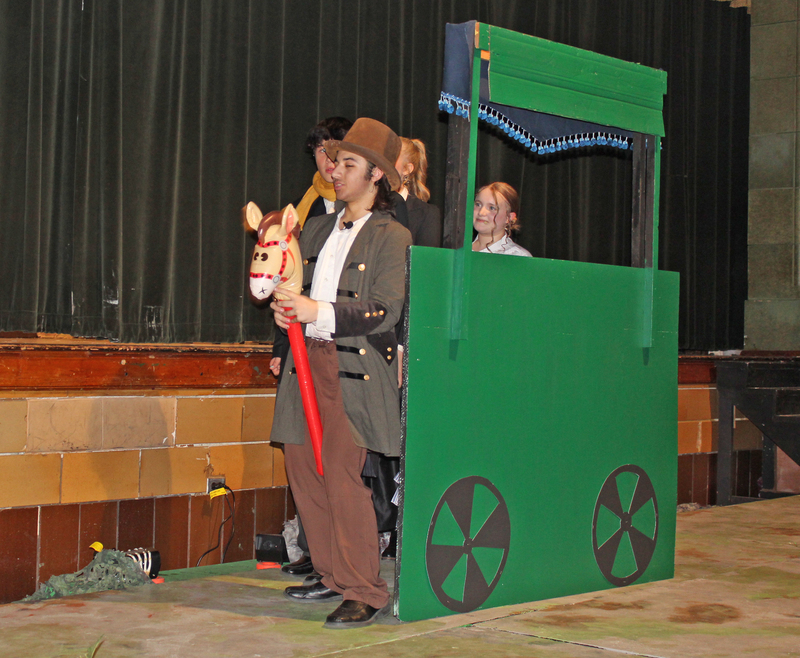 Mason Cottner as Perkins the coachman takes his passengers across the moor.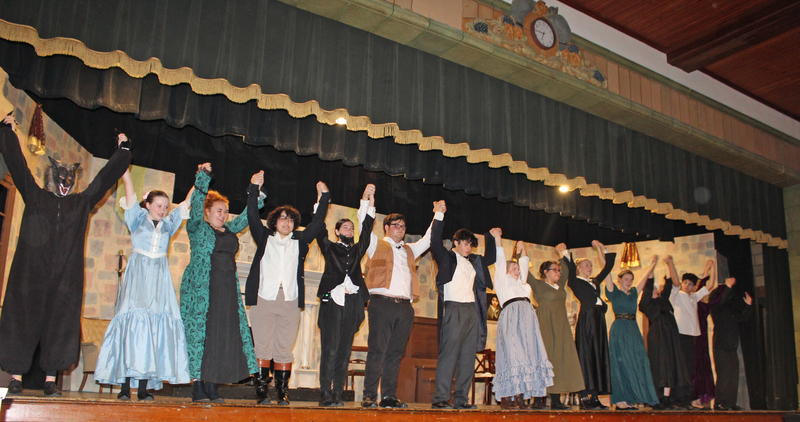 The cast takes a bow.