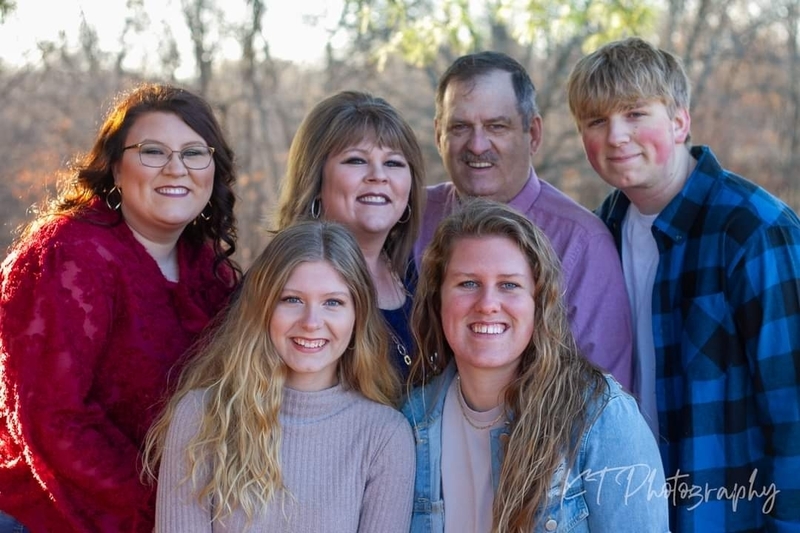 Assistant Superintendent Jeanie White is pictured with her daughters (above, from left) Courtney, Ashley, Morgan, husband Mike, and son Lucas
Assistant Superintendent Jeanie White has announced her retirement at the end of this school year.
She joined the District in the 2014-15 school year after serving as the middle school administrator and instructional leader for Grades 7-12 at Laclede County R-1 School District in Conway, Mo. Prior to that, Mrs. White served as the K-12 administrator at Oregon-Howell R-3 School District. She began her career in education 29 years ago as a fifth-grade teacher at Crawford County R-1 School District in Bourbon, Mo.
"I went to Fredericktown High School and we still have family in the area, so I was thrilled to have the opportunity to come to District 32, which has always felt like home," she said.
Mrs. White has played a key role in the capital improvements plan that has seen the construction of new school facilities and extensive remodeling of existing buildings.
"I am so grateful that I was able to serve on the Prop. KIDS committee that secured the passage of a bond issue in 2017 for these projects," she said. "Our staff, parents, and community came together in a wonderful way to benefit our schools for years to come."
Mrs. White wrote the grant that resulted in $2.3 million in federal funding for the FEMA tornado shelter which serves Perry County Middle and Perryville High Schools, and managed the pandemic-era grants the district received. As assistant superintendent, she serves as the Human Resources director for the district, and oversees food services and transportation.
"I am very proud of the assistance I've been able to provide for our food services department," she said. "Director Debbie Baer and I were able to implement the after-school snacks program that provides a meal for every student who participates in an on-campus after-school activity like tutoring, clubs, and athletics. Proper nutrition is absolutely vital for child development, and we take that seriously at District 32. Through this program, tens of thousands of additional meals have been served to children in our community."
"I have so much to look forward to in retirement, but I'm going to miss District 32,"she said. "I will most miss my visits to our schools, where I've gotten to know our students and staff so well. I got into education to serve children, so will miss those interactions most."
Mrs. White and her husband Mike have been married 31 years and have four children – daughters Courtney, Morgan, and Ashley, and son Lucas, who attends PHS.
"We have a new travel trailer that we're ready to take on some adventures," she said. "We love being outdoors and riding our side-by-side, and we can't wait to have more time together for those simple pleasures."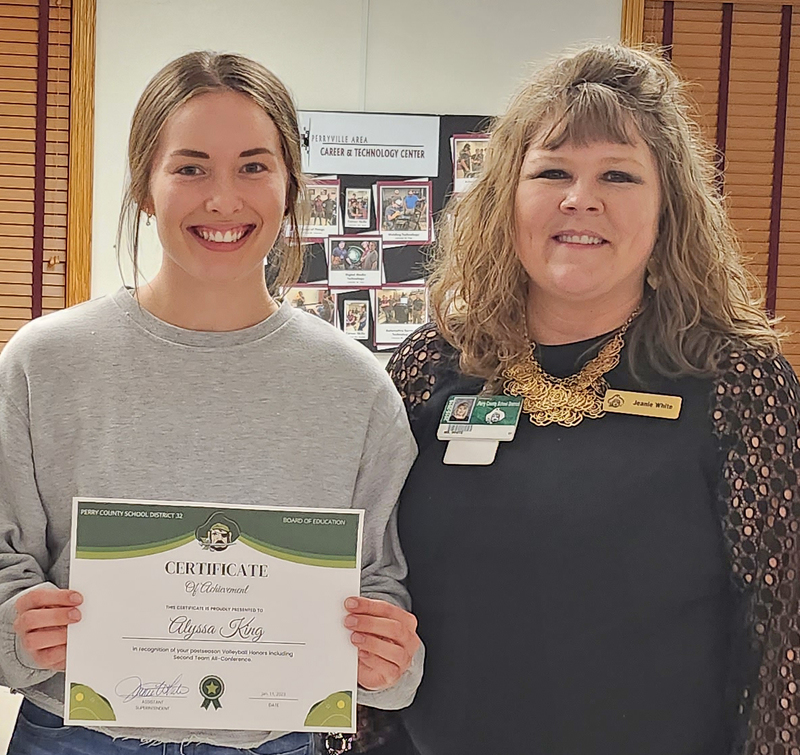 Assistant Superintendent Jeanie White (right) is pictured presenting a certificate of achievement to Alyssa King, a Perryville High School student being recognized at the January Board of Education meeting. Mrs. White said that the monthly student recognitions are a favorite part of her job. She has announced her retirement at the end of the current school year.