EDIT MAIN
Alumni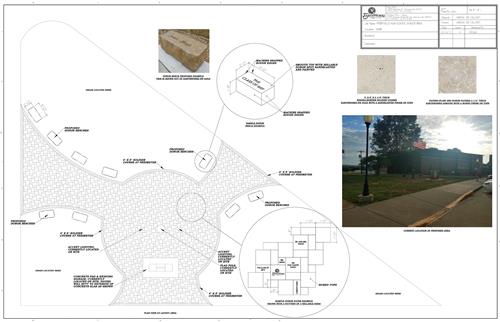 Click here to order Pavers online
Click here to Print Pavers orders
District 32 will hold an official ribbon-cutting ceremony in October 2020 for our beautiful paver garden, thanks to our alumni and local businesses.
Perryville High School Alumni Association has partnered with Earthworks of Perryville to create this stunning landscape feature in the Pirate Plaza. This area lies between Perryville High School and the Old Senior High, and created in 1994 by the Alumni Association.
The original improvements to the plaza included the landscaping, installation of the wrought iron fencing and the addition of the decorative light poles. The centerpiece of the Pirate Plaza is the district's historic flagpole, gifted to the school in 1938 by the community's World War I veterans.
The paver garden is centered on the flagpole, and features natural stone pavers in three sizes, as well as natural stone benches. All of the stone for the project was donated by Earthworks; owner Kevin Thieret is a proud 1969 alumnus of PHS. All of the landscaping was donated by Kueker Landscaping and Nursery; owner Brad Kueker's daughters are all PHS Alumni.
The Alumni Association has a long history of supporting District 32's schools through its campus improvement projects, classroom grants and scholarships to graduating seniors. The paver garden will generate the funding that the Association needs to continue this work on behalf of our schools, our staff and our children.
The Pirate Plaza Paver Garden project will give our Pirate families and our community a perfect way to commemorate important life events while providing the important financial support the association depends upon.