EDIT MAIN
BackPacks For Friday & Perry County Children's Fund
About the District 32
BackPacks For Friday
Program
Updated 7/3/18
In 2012, then-PCMS Principal Velda Haertling and Counselor Glenda Gremaud recommended that the Backpacks For Friday program be adopted by District 32. The BackPacks For Friday program is a project of Southeast Missouri Food Bank and Feeding America. The funding for the District 32 program is provided by donations to the Perry County Children's Fund, a charitable trust at District 32 through The United Way of Southeast Missouri.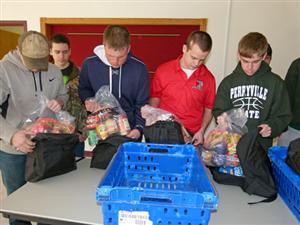 Student volunteers pack the BackPacks
For Friday backpacks,
which are distributed to children on Fridays.
The Backpacks For Friday program is a project of the Perry County Children's Fund at District 32.
Backpacks For Friday is a referral-based program. Teachers, nurses, cooks, administrators and counselors have referred children who are food insecure according to the Southeast Missouri Food Bank's eligibility requirements.
Observations include children who are seen repeatedly at the nurse's office for stomach aches because they are hungry; children who exhibit physical symptoms of malnutrition like extreme thinness, red and swollen skin, dry and cracked lips, dry and itchy eyes, and brittle spoon-shaped nails; children who are excessively absent due to chronic illness, who suffer from shortened attention spans and behavior indicators like anxiety, passiveness and emotional distress; and environmental indicators like moving frequently, homelessness or loss of income.
If school is not in session on Friday, that week's bag is sent home earlier in the week (if day off is planned) or the next day back to school (in case of snow days). The bag weighs between 9-13 pounds and contains enough food for a family of 4 for the weekend. Bags can contain canned meats, soups, chili, vegetables and fruits; meal kits; pasta and sauces; peanut butter and jelly; beans; and cereal. The bag is typically sent home with the oldest child in the family because of the weight.
Currently, District 32 is serving 31 families with 124 children. Since 2012, the program has served over 150 different families.
Approved food-storage space is limited on campus. At this time, BFF food is stored in the career center. Automotive repair technology instructor Tom Canter volunteers to meet the truck each month, and career center students volunteer to carry the food to the storage area.
DJ Goodson, lead instructor at Perryville Alternate Learning School, coordinate the distribution of the food each week. They fill the bags, deliver them to buildings, and work with building coordinators to ensure that the food makes it home with the children.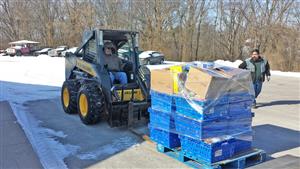 Our volunteers unload a delivery of food from
the Southeast Food Bank.
For $9, Pirates United provides
food for a family of 4 for a weekend.
Kate Martin (Ext. 559) is the District 32 site coordinator for the Backpacks For Friday program. Building coordinators are Cassie Cole (Ext. 422 at Perryville High School, Sherry Steif (Ext. 202) at Perry County Middle School and Pam Wood (Ext. 330)at Perryville Elementary School.
If you'd like to donate to the BackPacks For Friday program,
If you know a group or organization that would like to hear a presentation about BackPacks For Friday and Pirates United at District 32, please contact Kate Martin at kmartin@pcsd32.com or 573-547-7500, ext. 559.