EDIT MAIN
Marsha Bartley - Ms. B
Elementary Music
Kindergarten - 2nd Grade
PES (573) 547-7500 ext. 625
---
Welcome to Music! Enjoy my webpage - I hope you find it educational, informative and fun.
Important Musical Events You Don't Want to Miss!
Veteran's Day Assembly - November
Christmas Musical - December
Kindergarten Recognition - May
---
Student Supply List
Kindergarten through 2nd grade.
I would appreciate any of the following donations:
A box of Kleenex/Tissues
Disinfecting Wipes
A bottle of Hand Sanitizer
Thanks so much!!
---
Meet the Teacher
Why do I Teach?
To state it simply, I believe that teaching is the greatest job in the world! When I was a young girl, I carefully observed my teachers. I watched how they presented material, the techniques they used to motivate students, their attitude toward the subject matter, and if it all worked together to achieve the goal - to educate students.. Did the students understand and learn the subject matter? Did they share the excitement of learning something new with their classmates and teachers? I realized early on that what took place in the good teachers' classrooms was great educational experiences by all. I not only knew that I wanted to be a teacher, but I wanted to be a great teacher. I continue to strive for that each day! To me, teaching is - a competition - only I compete against myself. How many students will I reach today? How many smiles will I see as my students succeed at singing or playing a song? Will curiosity be peaked when we explore a new concept or culture? Will all of my my students go forth with a life-long appreciation of the performing arts? My goal at the end of each day is to answer those questions with a resounding yes! If I don't, then tomorrow I must work harder and try something new! Attending professional conferences, reading professional journals, and working to learn new technology are ways I stay at the top of my game. I hope that the parents of my students know how important their children are to me. Please feel free to call or e-mail me at any time with questions or concerns. Marsha Bartley (Ms. B)
Interesting(?) Facts About Ms. B
Single mom with 2 great sons: McCaulin and McGwire
Loves to listen to music and write songs
Loves to explore Sanibel Island, Florida by bicycle and walk along the beach collecting unique shells
Loves her mom and dad, sister Mrs. C,brothers: Mike, Mitch, Mark, and Martin
Loves to spend time with all of her familyand play Trivial PursuitLoves to sled on "snow" daysand BBQ in the summer
Loves the Cardinals and the Blues
Loves the simple, happy times in life Feels Blessed on a daily basis
---
Music Websites
San Francisco Symphony Kids http://www.sfskids.org Ms. B guides her 2nd graders through the Music Lab section on this site covering Basics, Tempo, Rhythm, Pitch, Harmony, and Symbols in preparation for a unit of Bucket Drumming. The Instruments of the Orchestra section describes the instruments and you can hear them play!
Classics for Kids http://classicsforkids.com This is a great site to learn about classical music, composers, and instruments. You can listen to classical music and read about what it is like to be a conductor, composer, opera singer, etc...
Music Tech Teacher http://musictechteacher.com Ms. B loves this site for her older students. This site was developed by Ms. Karen Garrett in Birmingham Alabama who uses technology to enhance music instruction. Check out the music quizzes/games section for fun with instruments and music fundamentals/theory.
Young Person's Guide to the Orchestra http://listeningadventures.carnegiehall.org/ypgto/index.aspx Kids love this site as it is one of the most fun ways to explore the instruments of the orchestra. One of England's most famous composers, Benjamin Britten, was asked to write a piece of music to teach children about instruments. So, he composed, "The Young Person's Guide to the Orchestra". This website turns the piece into a safari adventure with games and puzzles about the instruments and their families.
---
---
Treasure Chest/Prize Box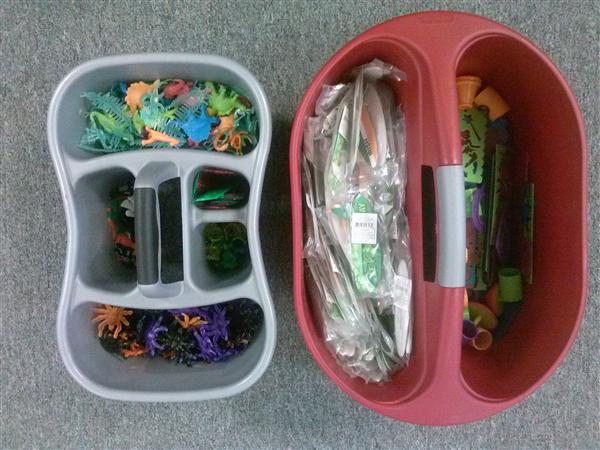 Ms. B's Prize Buckets Could use Your Help!!
Ms. B uses her treasure chest to reward students for displaying good behavior/character and active participation in music class. Each class has a sticker chart and can earn stickers daily. When a class accumulates 10 stickers each student receives a small candy treat. When a class receives 20 stickers, each student receives a prize from the prize bucket. With over 400 students, the cost to keep the candy bin and treasure chest filled gets quite expensive! Ms. B would gladly accept any donations of small candy or prizes to help her reward her students! So, next time you have a yard sale and some of your small treasures are left behind send them to me. I will find them a home!
---
We're Goin' on a Bear Hunt!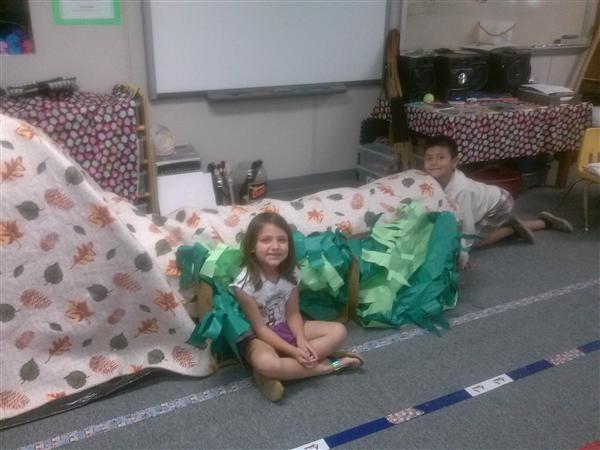 We read the book "Goin' on a Bear Hunt" by Michael Rosen and then practice singing the song.
The final fun is after making our way through the long wavy grass and the squishy mud we find
bears in the cave! A successful bear hunt!!
---
Harmonica Fun