EDIT MAIN
Jessica Buchheit
Kindergarten
Room 014
(573)547-7500 ext. 314
jebuchheit@perryville.k12.mo.us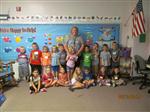 Meet the Teacher
Since I was a child I dreamed of becoming a teacher. From early on I can remember using old textbooks to teach my baby dolls and stuffed animals at home. I would pretend to be my favorite teachers, and I would dream about what my life would be like someday as a teacher.
In pursuit of my dream I graduated from Perryville High School in 1999. After high school, I earned a bachelor's degree in Early Childhood Education from Southeast Missouri State University in December 2003. Then in 2004 my dream of teaching became a reality when I started teaching for Perry County School District #32. After teaching I extended my degree to Special Education in 2006, and I completed my master's degree in Curriculum and Instruction from William Woods University in December 2007. This current year marks my eighth year teaching Kindergarten, and my twelfth year teaching for the school district. With this being said, I feel very blessed!
I also feel blessed to be married to my husband Jason Buchheit of nine years, and I feel blessed to have two healthy boys with him!! We are proud parents to our four year old son, Lucas, and our one year old son, Kyle. Together they gives us lots love and laughs, along with our family and friends! They complete our family of four and are an important part of my life...just as my childhood dream of teaching is too!
Mrs. Jessica Buchheit's Kindergarten Supply List
Throughout the school year your child will be engaging in numerous educational activities that will involve the use of various school supplies. Listed below are the items your child will need to bring to school.
Please put your child's name on each of the following items (not on the box or package). This is necessary because students misplace their items. If the items are individually labeled, it makes it easier to find them. You need to use a permanent marker when labeling the school supplies items (stickers and labels tend to fall off). Also, remember to label pencils and crayons near the bottom.
*Crayola crayons (16)- not the big ones
*Crayola Classic markers (8-12)- the big ones
*Crayola colored pencils (12)
*8 No. 2 pencils
*2 highlighters- any color
*8 jumbo glue sticks
*1 pkg. of white cardstock
*Fiskars metal scissors
*Small, plastic pencil box- no handles
*Small towel (to rest on)- must fit inside small shoe box
DON'T put your child's name on the following items. We will share these items all year. It saves us time when we don't have to look for names.
*2 dry erase markers- any color
*1 bottle of regular size glue
*1 bottle of rubber cement
*2 erasers
*6 plain pocket folders with brads
*2 boxes of tissues
*1 bottle hand sanitizer
*1 boxes of Ziploc sandwich sized plastic bags
*1 box of Ziploc gallon sized plastic bags
Please only send the highlighted items below. Don't put names on these items.
*1 bag of plastic spoons *1 pkg. plastic or Styrofoam cups
*1 bottle liquid soap *1 pkg. Styrofoam bowls
*1 bottle Expo Cleaner *1 pkg. diaper wipes
*1 container Clorox Wipes *1 pkg. construction paper
*1 pkg. lunch size brown paper bags *1 ream colored paper (any color)
*2 watercolor sets *1 pkg. rainbow poms
*1 pkg. wiggle eyes *1 pkg. colored feathers
Please follow the guidelines when collecting and preparing these items. There are specific reasons why I ask for specific items, sizes, and brands. To make best use of your dollar, please purchase these exact items.
Please put the following items inside the pencil box prior to the Open House. All other items will not be put in the pencil box. Throw away the marker and crayon boxes. Also, make sure everything that is placed in the pencil box is open and ready to use for the first day of school. This will make for a smooth transition on the first day of school.
*crayons
*markers
*2 sharpened pencils
*2 glue sticks
*eraser
*scissors
*1 highlighter
You'll also be responsible for bringing these items in for Art and Music. Please place Art items in a bag labeled Art, and Music items in a bag labeled Music. I'll deliver these bags to their teachers.
ART
*Oversized, old t-shirt
*2 pencils
*1 Elmer's white glue
MUSIC
*$2.00 please
Lastly, you'll need to send money for these items as well. If you're writing a check make them payable to Perryville Elementary School.
*$10.00- Fun Cooking Days- Throughout the school year, your child will engage in cooking activities on special days and holidays. The $10.00 fee will cover the expense for our fun cooking days. On a daily and weekly basis you'll still be responsible for bringing a snack for your child. On the days we cook, your child will bring the snack home that you packed for him/her that day.
*$15.00- Classroom survival kit (includes planner/ handbook/ headphones)
Interesting Web Resources