District 32 releases Roadmap To Reopening
Kate Martin
Monday, August 03, 2020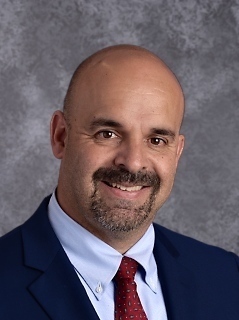 To view YOUR child's building plan, select SITES in the top menu bar, then select the appropriate school.
I am Andy Comstock, Superintendent of Perry County School District 32. I'm also the husband of a teacher here, and two children who attend our schools, so I am experiencing the same feelings many of you have today as we prepare for our new school year.
For over four months, our administrators and instructional teams have worked to create a Roadmap To Reopening our District 32 schools safely this fall. This process has been the most difficult of our professional careers as educators, for many reasons.
We abruptly ended our last school year in March due to the nationwide spread of the COVID-19 pandemic. It was a time of uncertainty, with every day bringing more difficult news: supply shortages, job losses, and family, colleagues and students who were ill with the virus. Our teachers mourned the loss of valuable time with their students. We tried to keep them connected to school with very limited resources, and we strived to help community members in need. In the Perry County Way, we again came together as a community to support one another.
Our hope throughout the closure has been to bring our students back to campus for school days that look as "normal" as possible, and I know that's been your hope, too. This has proven to be a tremendous challenge with current physical distancing guidelines. We have created scheduling, however, that accommodates those guidelines - while also reducing the time our students will be required to wear face coverings for their protection and that of their teachers, classmates and family at home.
I am incredibly proud of and grateful to every person who works at District 32 schools for their efforts toward our goal to bring students back to campus. While many schools in our region and across the nation have chosen to proceed with only virtual learning, it is our belief that the very best place for our students is in the classroom with their teachers, as often as safely possible.
We have worked with experts in our community and across our region and nation to put in place common-sense measures to protect our students and our staff, who are at much greater risk from the coronavirus, so we may offer our Pirates On Campus option.
While every student cannot be on campus every day under current health and workplace safety guidelines, every child will have instruction every school day. This online instruction is being designed to lessen the impact on families who do not have access to reliable internet. This can be achieved by ensuring your child is at school on attendance days, where teachers will assist students in downloading information to their district-provided devices.
We also recognize that many of our families aren't yet ready to return to community settings, as the long-term effects of coronavirus on children are not yet known. Our schools continue to develop our program of robust, teacher-guided instruction for the Pirates At Home option. We're creating additional ways to support students who learn at home through improved tech support, flipped classroom education, and educator oversight to make sure they stay on track for advancement.
We also realize that many busy working families have come to rely on schools as more than centers of educating children in the disciplines and skills they need to succeed in college and careers. Our mission is to educate children from Kindergarten to Grade 12 in the sciences, arts and today's technology -- while supporting the family's efforts to help their children to grow up to be responsible citizens of good character.
We have taken every opportunity to create consistency in scheduling to assist parents in planning ahead for their family's own needs. We have a shared flex day for all buildings, and we're amending our school calendar to move every possible "off" day, including parent-teacher conferences and professional development days - to Wednesdays.
We remain committed to our mission to educate our K-12 students so they can become successful adults. We remain committed to providing support to their families in ensuring physical, emotional and social wellbeing. And we will not hesitate to make difficult decisions to help keep students and staff safe in our facilities.
Please take time to view the video about our Roadmap To Reopening. You'll hear more about our planning process and partnerships. Our principals will describe the instructional plan at each school, and you'll learn how our buses and cafeterias will support you in transporting and feeding your children. You'll also receive information about special services, athletics and activities, and mitigation measures.
Finally, you'll be provided contact information and virtual opportunities to have all of your questions about YOUR child's education answered.
As your superintendent, I give my word that our plan for the first semester -- while neither "normal" or perfect -- is instructionally innovative, human-centered and designed to allow transition as our nation brings the pandemic under control. At District 32, our goal isn't to just bring kids back to school -- it is to KEEP them in school by reducing the chances of classroom or building closures.
We don't know what the future will bring, but we do know that we have many challenges ahead of us as a Pirate family.
We ask you as parents and community members to join us in our commitment to keeping kids safe and in school.
We ask that you direct your questions to the folks who can answer them. To show grace to our teachers and staff who only want the best for your children.
Finally, we ask you to help every child -- whether they are learning at school or at home --prepare for this new school year with hope, joy and a sense of safety.