District 32 Health Screening Process for the 2020-21 School Year
Kate Martin
Friday, August 21, 2020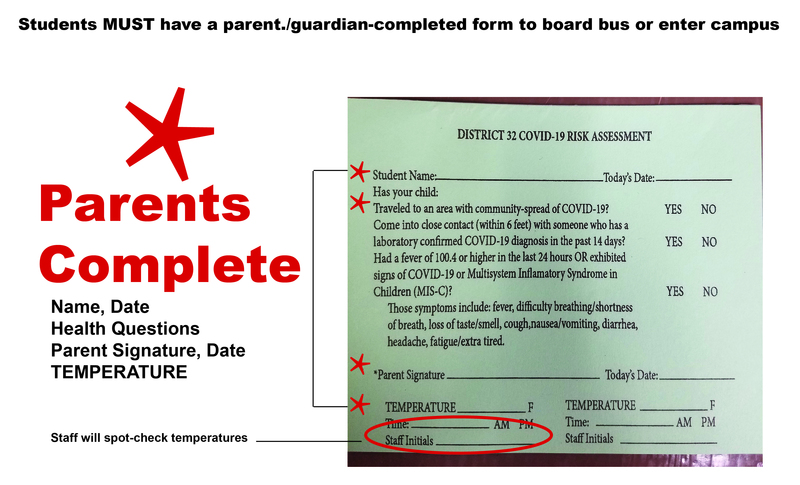 It's always important that people who are sick stay home to prevent the spread of illness, but it's absolutely vital during a pandemic.
District 32 will use a Parent-Completed Daily Health Screening for every student during the 2020-21 school year in an effort to keep our schools safe and healthy for our students and staff.
Parents have been provided with Daily Health Screening Forms for this purpose.
(If you did not yet receive a pad of these green forms, your child can bring a pad home from school on their first day of attendance.
You can print a copy of the form here for the first day: https://5il.co/k28l
This health screening consists of questions about your child's current health, possible exposure to COVID-19, whether they are awaiting results of a COVID-19 test, and if you have given them a fever-reducing medication in the last 24 hours. You must record your child's temperature as well, and it must be under 100.4ºF.
Parents must complete a Daily Health Screening for every child.
Any student who does not have a completed Health Screening Form,
signed by a parent or guardian,
will not be allowed to:
• Board a bus;
• Exit a vehicle at parent drop-off; or
• Enter any building on campus.
Staff will also complete Daily Health Screenings, including the temperature check.
Random temperature checks will be performed throughout the school day.
COVID-19 SYMPTOMS*
Students and staff must not come to school if they are sick, quarantining, self-isolating or waiting for COVID-19 test results.
Do not come to school or work if you have a current respiratory illness and/or symptoms of COVD-19, or a known exposure to a positive COVID-19 case within the past 14 days. If any of these apply, please notify your child's building office or, for staff, your principal or supervisor as soon as possible.
*This list does not include all possible symptoms. The CDC continues to update this list as it learns more about COVID-19. Find out more at www.cdc.gov/coronavirus/2019-nCoV.