Perry County School District 32's Board of Education met in regular session Wednesday to consider technology purchases, grant submissions, and the district's most recent state testing data. But first, the board recognized middle and high school students who earned spots on the All-District choirs and bands.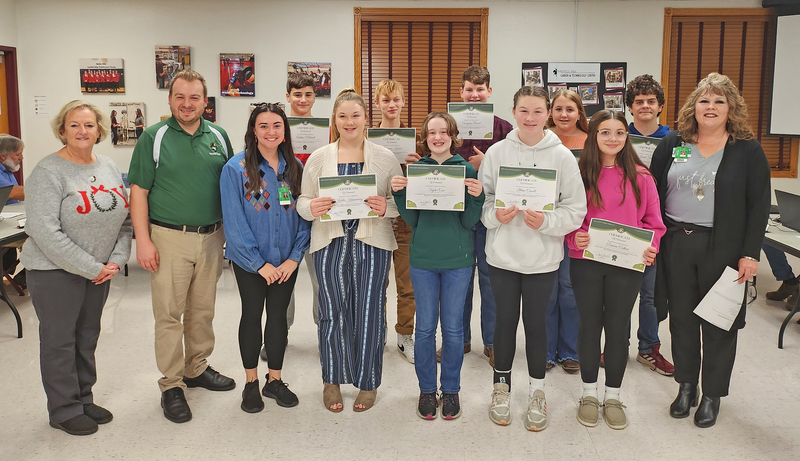 Recognition of PCMS All-District Choir members
Perry County Middle School students recognized for All-District Choir were Brayden Amberger, Wesley Baggett, Kinsley Balsman, Carter Berkbigler, Abigail Bridges, Waylon Buerck, Desirae Cottner, Lillian Cowell, Taylor Cox, Hunter First, Karlie Kannenberg, Riley Kemp, Jacob King, Benjamin Kueker, Kaden Lane, Trey Lukefahr, Ashton Mitchell, Chloe Moll, Destyn Morgan, Alexzander Riney, Kylie Sanderson, Prestin Shoemake, Jared Stortz, Nathaniel Tartt, and Emma Taylor.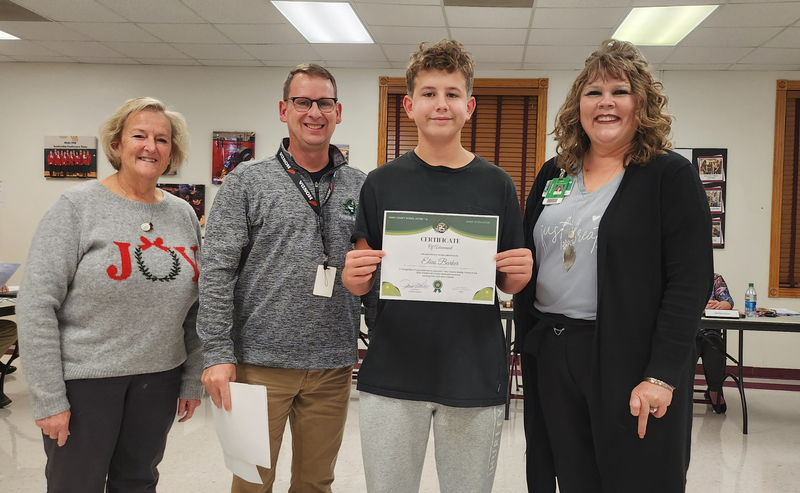 Recognition of PCMS All-District Band members
PCMS students who earned a spot on the All-District Band were Elias Barker, Cara Fulmer, Jacob Goehman, Emmitt Gromer, Landon Hudson, Karlie Kannenberg, Riley Kemp, Kristina Kishbaugh, Jade Reed, Derek Riney, Manuela Robinson, Maysa Schindler, Ziva Thurman, Ryan Traut, Paityn Young, Claire Zahner.
Recognition of PHS All-District Choir members
Perryville High School students in the All-District Choir are Anna Abbott, Sten Barber, Blake Bodendieck, Megan Kluender, Eleanor Maxwell, Gwynivere Newbrough, Xavier Pfaff, Ayla Schuler, and Tyson Wilkerson.
Recognition of PHS All-District Band member

PHS student Christopher Linhorst was recognized for earning a spot on the All-District Band.
The board approved the 2023-24 Academic Calendar, which the CSIP indicates should include more collaborative time for teachers. "We created one additional day for the staff to collaborate and conduct professional development which aligns to the goals in the CSIP plan," said Board President Nancy Voelker.
Dan Querry and Stacey Seabaugh spoke on behalf of the committees that have been researching student information system (SIS) management software over the last couple of months. The current SIS software is through Tyler Technologies which was recently sold to Infinite Campus, so we have to make a move," said Querry, who is the director of technology at District 32.
"Tyler's support is a sinking ship already, so this is a good time to do it. With the amount of data we have to transfer, we need to make a decision soon to give us time to get that done and be ready for the new school year." Tyler Technologies costs just over $34,000 per year. Infinite Campus is $59,725 the first year, and $46,809 for renewals. "This has the learning management system built in, which means parents and staff will have one place to go for all information," Querry said. "It includes a teacher evaluation tool; we currently pay and many surrounding schools use Infinite Campus. For instance Cape Public Schools have been using it for 11 years, and they reported that they have never had a price increase."
Seabaugh recommended SpedTrak software for the special education program. "Many area schools use it, and SpedTrak sends alerts if we are not in compliance," she said.
The board approved both the Infinite Campus and the SpedTrak contracts as presented.
Director Craig Hayden discussed the enhancement grant proposal, a 75/25% proposal that would fund projects at Perryville Area Career & Technology Center. If awarded, the district will receive $66,363 in state funding, 75% of the $88,484 total to be spent on these items, which results in a net $22,121 expenditure for the district's portion of the grant. The board approved the submission of this grant proposal.
Dan Querry then requested permission to apply for a cyber security grant, which would provide 90% of the funding needed for $148,270 in technology improvements including 24-hour data monitoring and cyber security testing. The district's match would be $14,827. The board approved this request.
The John T. Belcher Scholarship nominee from District 32 is Andrew Layton. He will now compete for the MSBA regional nomination.
Superintendent Andy Comstock presented various salary concepts for board consideration for the development of the 2023-2024 school year budget. He recommended that the district award all years of service to current staff members to align with the new policy for bus drivers. Teachers were previously allowed to bring in their first 10 years of teaching experience and then half of their remaining years, and support staff were awarded no years of service. Comstock said this will cost about $50,000 in new salary and benefits annually. He also recommended that the salary schedule be extended to 35 years, five more than the 30 years on the current salary schedule. "We are finding it hard to replace good teachers, so if we can encourage them to stay a few more years, that's a win for us," Comstock said. He also outlined ways the district can better align classified and administrator salary schedules.
Director of Curriculum and Instruction Carrie Tripp then presented the district's data from the spring 2022 state assessments, the Missouri Assessment Program (MAP) and End-Of-Course exams (EOCs).
"When you look at the last two years of state English-Language Arts results, they decreased in 6 areas, while we decreased in 5 areas," she said. "In math, the state average increased in 7 areas and we increased in 4 areas. It's odd to see math increasing and ELA decreasing, but that is the post-covid trend we're witnessing now." She told the board that the district has added ELA coaches, plus two interventionists, to increase student performance in that area. "We're also receiving Greg Tang Math professional development for K-5 math instruction," Tripp said. "He meets with all of our teachers on a very regular basis, and they are learning new strategies to teach math based on brain science."
The board viewed a video spotlight of the District 32 Veterans Day ceremony, and the monthly MSBA report.
Filing for three seats on the District 32 Board of Education continues through Dec. 27. Candidates may file for one of the 3-year terms on the following dates:
Dec. 19, 2022 7:00 a.m.—3:30 p.m.

Dec. 20, 2022 7:00 a.m.—3:30 p.m.

Dec. 21, 2022 7:00 a.m.– 11:00 a.m.

Dec. 22, 2022 CLOSED

Dec. 23, 2022 CLOSED

Dec. 26, 2022 CLOSED

Dec. 27, 2022 8:00 a.m.—5:00 p.m. Last Day to File
A special meeting will be held Wednesday, Dec. 21 at 6 pm for the auditor to present the district's annual audit report. The next regular board meeting is Wednesday, Jan. 11, 2023 at 7 pm in the Career Center Multipurpose Room.
-30-