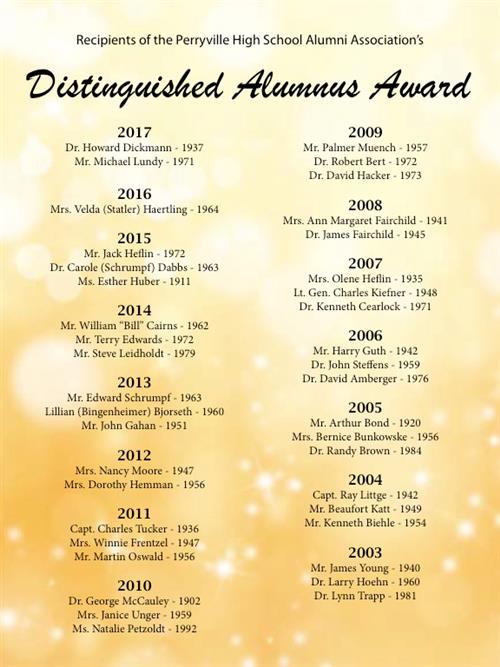 If the halls of Perryville High School could talk, they would tell of the more than 130 years of tradition and legends – legends of students who have gone on to achieve great things personally, professionally, or philanthropically.
This year, thanks to the development of the Perryville High School Distinguished Alumnus Award, the halls will talk, and today's students will listen to lessons taught by some of the school's highest achievers.
CLICK HERE TO DOWNLOAD A DISTINGUISHED ALUMNUS NOMINATION FORM.
According to Kate Martin, District 32 Communications Director and PHS Alumni Association member, the award was established to acknowledge and honor graduates of Perryville High School.
"The Alumni Association felt that there are many Perryville High School graduates who have demonstrated exceptional personal, community or professional achievements," said Boxdorfer. "We thought it was very important that they be recognized for their accomplishments or service and that their stories be passed on to the youth of today. We wanted our students to realize that you don't have to come from a big city to realize success. If ordinary people from a small town like Perryville and a small school like Perryville High School could make a difference in the world, then maybe telling others about their success or service would be an inspiration for students to reach for the goals and dreams they have."
"One other point we wanted people to understand about this award is that the nominee doesn't necessarily have to be famous," said Martin. "We hope people will nominate graduates who have attained success in a variety of areas including the arts, communications or publishing, medicine, health and fitness, business and technology, academics, religion, athletics, law or justice, politics or government service and community service."
To be selected as a PHS Distinguished Alumnus, a Perryville High School graduate must be nominated for the award. "A committee was appointed by the PHS Alumni Association to set the criteria for the award," said Martin. "The criteria states that all nominees must be notified prior to nomination and agree to being nominated and must have graduated at least 10 years prior to nomination."
Nominations not selected initially will be held on file for reconsideration for 5 consecutive years. "The committee didn't have any idea how many people would be nominated in any given year," said Martin, "so they set a limit of no more than 3 awards given per year. Some years, there might not be that many nominations, and other years there might be 30. By keeping the applications on file for five years, worthy and deserving applicants won't have to be cut because of the three per year limit."
Nomination forms for the PHS Distinguished Alumnus Award are available by clicking here or visiting the Perryville High School office.
"We hope that people will come forward and nominate worthy graduates for this honor," said Martin. "Nominations will be accepted until June 15. Once the committee makes their selection, recipients of the award will be honored at homecoming and again at graduation. This is a very special honor and we hope that people in the community will help us to recognize our outstanding graduates."