EDIT MAIN
Transportation Department Staff
Meet The Director - Sarah Orf (sorf@pcsd32.com)
Sarah Orf has many years of experience in bus transportation services. Sarah is married and has two children who have atteneded District 32. She and her assistant, John Bohnarczyk, oversee District 32's fleet of 37 buses, which transport aproxametly 1,500 students daily to and from school, for field trips, sporting events and special activities. Mrs. Orf said that she and her staff are focused on maintaining the high safety standards that District 32 families have come to expect. The District will still be using 3 security cameras on each school bus for the coming year. "The safety of our children is the No. 1 concern for everyone at District 32," she said. We expect a safe and happy year. The transportation staff looks forward to spending time with your children.
Meet The Assistant Director - John Bohnarczyk (jbohnarczyk@pcsd32.com)
John Bohnarczyk has been with District 32 for several years now. He is originally from New Jersey, but has lived in Perryville for many years. John oversees the maintenance part of our bus fleet going above and beyond everyday to keep our buses running safely.
Meet The Secretary - Tia Moll (tmoll@pcsd32.com)
Tia Moll is the secretary for our Transportation Department. Tia was an aide for 2 years, a substitute for 1 year, and is also a bus driver. She has two children who attend District 32. Ms. Moll says she is happy to be a part of the District #32 team.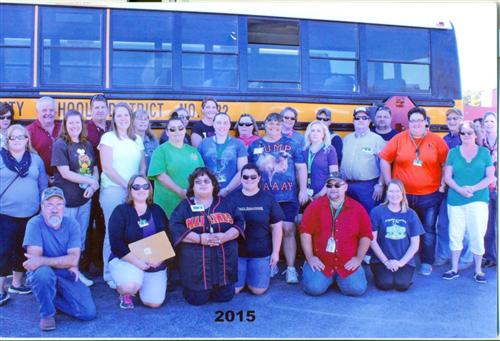 Some of our amazing #D32 drivers for the 2015-2016 school year!
Thanks for all of your hard work! It is the love of children that make their job easier!