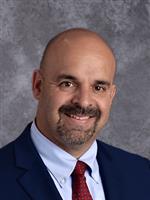 To schedule an appointment with Mr. Comstock, please contact Board Secretary Dodi Thieret at dthieret@pcsd32.com or 573-547-7500 Ext. 329.
Welcome to Perry County School District 32! I officially joined the D32 family in July 2016 as the superintendent of schools, but I've been a Proud Pirate for a number of years: We live in Perryville, my wife teaches here, and my youngest children go to school here. Bettina teaches art at Perryville High School. Our daughter Amari is a student at Perryville High School and our son Treven attends Perry County Middle School. Our son Adam attends Sikeston High School, and son Alex is a student at Missouri State University.
I started my career as a classroom teacher in New Madrid, where I taught high school sciences including chemistry, physics, anatomy, biology and physical sciences. I then moved back to my hometown of Sikeston, where I served as an assistant principal at both the junior and senior high schools. I was the junior high school principal for 5 years, then served 5 years as an assistant superintendent before joining the Meadow Heights district as its superintendent in 2012. There, I served 500 students and a staff of 80 people.
At District 32, I serve over 2,300 students, and a staff of more than 300 people. We are committed to providing an excellent education to our students, as we help them grow into adults who are ready for college or careers.
If you have any questions or concerns about our schools, please feel free to contact me. You can schedule an appointment by calling my secretary Barb Hagan at 547-7500, Ext. 329, or email me directly at acomstock@pcsd32.com.
#piratepride